Baked Bread & Provolone
In Bernalda, a town in Basilicata, there are many ancient bread traditions. The town isn't far from the durum wheat fields of the Murgia plateau and the famous bread towns Matera and Altamura. One of the town's classic dishes is 'u pan' cuott' (Bernaldese dialect for pane cotto, "cooked bread"). Families would bake stale slices of Bernalda's enormous 3-kilogram loaves with whatever food scraps they could find, resulting in a savory, delicious bread casserole bound by gooey bits of melted provolone. Use the crustiest durum bread you can find or bake.
'U PA N ' CUOTT' (BAKED BREAD AND PROVOLONE)
Ingredients
1 lb day-old durum wheat bread (I like Matera-style;), torn into bite-size pieces
3 cups cherry tomatoes, halved
7 ounces provolone cheese, cut into 1-inch cubes
1 teaspoon peperoni cruschi powder or sweet paprika
2 garlic cloves, smashed
1 teaspoon dried oregano
½ teaspoon peperoncino or red pepper flakes
¼ cup plus 2 tablespoons extra-virgin olive oil
Sea salt
Instructions
Preheat the oven to 475°F with a rack in the center position.
Place the bread in a colander, rinse with warm water, and set aside to soften. The bread should be moistened but not sopping wet.
In a large bowl, combine the tomatoes, provolone, peperoni cruschi, garlic, oregano, peperoncino, and ¼ cup of the olive oil. Season with salt.
When the bread crusts have softened, squeeze out any excess liquid and add the bread to the bowl with the tomato mixture. Stir to combine.
Grease a baking dish with 1 tablespoon of the olive oil, pour in the tomato mixture, and drizzle the remaining 1 tablespoon olive oil on top. Bake until the top is heavily browned and the provolone has melted, about 20 minutes. Serve warm.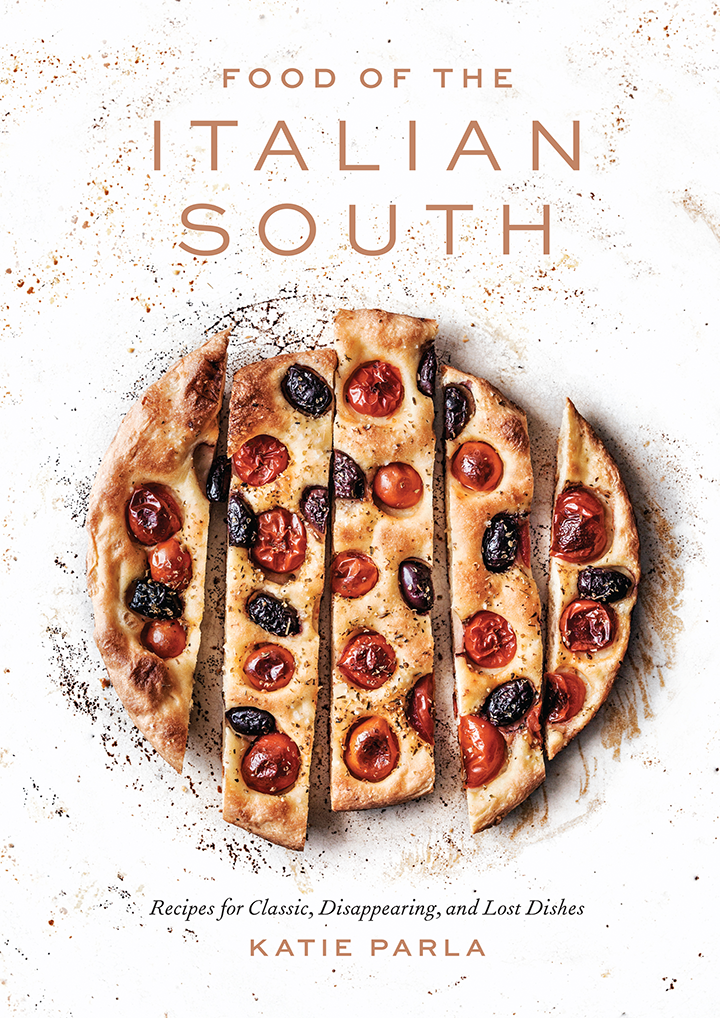 4-6
Recommended Content
Tags
Excerpt from Food of the Italian South, Katie Parla's newest book featuring 85 authentic recipes and 100 stunning photographs that capture the cultural and cooking traditions of the Italian South, from the mountains to the coast. Visit https://katieparla.com/food-italian-south/ to order today!
Recipes reprinted from Food of the Italian South © 2019 by Katie Parla. Published by Clarkson Potter, an imprint of the Crown Publishing/Random House, a division of Penguin Random House LLC. Photographs by Ed Anderson.