Fig & Bacon Whole Roast Chicken
Fig & Bacon Whole Roast Chicken
Pair with Diamond Collection Appellation Series Santa Barbara County Pinot Noir
Ingredients:
3 tablespoons fresh sage, minced
3 tablespoons fresh rosemary, minced
2 tablespoons fresh thyme leaves
3 garlic cloves, minced
4 tablespoons unsalted butter, softened
1 5-7 lb organic whole chicken
1 teaspoon kosher salt
5 strips uncured reduced sodium applewood smoked bacon
5-6 new potatoes, quartered
2 cups fresh or dried figs, either black mission or calimyrna, halved
1/2 cup chicken stock
1/4 cup quality aged balsamic vinegar
extra virgin olive oil
rosemary sprigs to garnish
Directions:
Preheat the oven to 350 F and gather a large roasting tray.
In a small bowl, combine half of sage, rosemary, thyme, and all of the minced garlic. Add the softened butter to the bowl and using your hands or a spoon, work the herbs and garlic into the butter until it is well distributed.
Discard the giblets and place the chicken onto the center of the roasting tray. Using your hands, lightly pull up the skin of the chicken breast and add the herb butter bit by bit under the skin. Press the butter all the way down under the skin of the breast so it roughly covers each. Use your hands from the outside of the skin to press the butter smoothly down the breasts.
Season the top of the chicken with 1/2 teaspoon of kosher salt.
Layer the bacon strips across the top of the breasts from wing to wing.
Sprinkle the remaining herbs over the bacon.
Add the potatoes and figs to the roasting tray around the chicken.
Pour in the chicken stock into the tray. Add a few splashes of balsamic vinegar over the figs and potatoes.
Liberally drizzle the potatoes and figs with olive oil and season with the remaining 1/2 teaspoon of kosher salt.
Roast the chicken for 1 hour 30 minutes until the internal temperature reads 165 F. Make a small cut by the thigh all the way to the bone and if there is any red flesh, continue to cook for several more minutes. Occasionally turn over the potatoes and figs in the tray, basting them with the tray juices.
Allow the chicken to rest for 15 minutes before placing it onto a serving platter. Transfer the potatoes and figs around the bird with a few sprigs of fresh rosemary or sage to garnish.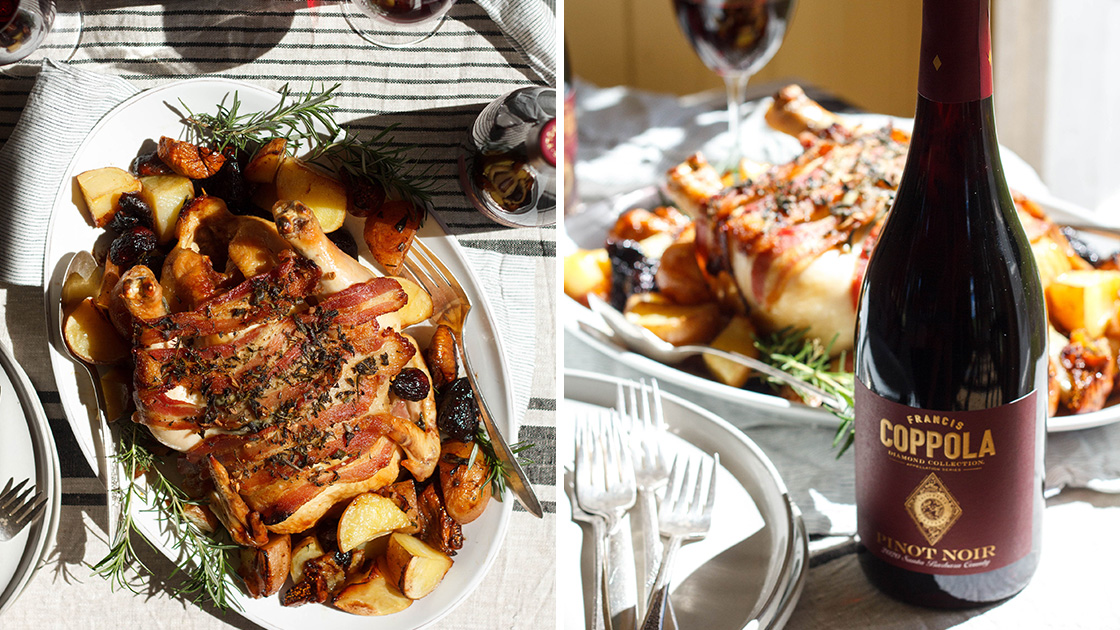 Recommended Content
Tags