Zuppa di Pesce Alla Napolitana
This classic Neapolitan fish stew has about as many versions of cooks as there are in Napoli. Italia's version includes a bounty of seafood and you do not need to use all of it; just use what you like and what is freshest wherever you are. This is plentiful enough to be a full meal, though a simple green salad afterwards will make you feel light and bright.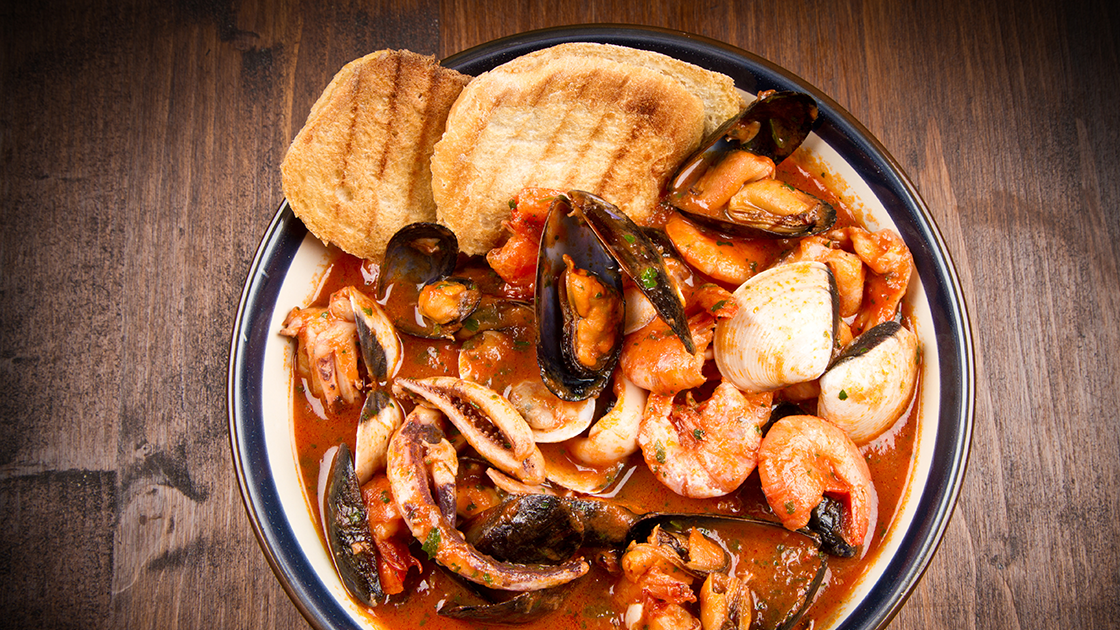 Kosher salt
12 ounces pasta of choice
½ cup olive oil
1 bunch green onions, white and pale green parts only, trimmed and cut into thin rounds
5 garlic cloves, crushed and minced
12 PEI mussels, rinsed and scrubbed as needed
12 small clams, rinsed and scrubbed as needed
2 lobster tails
12 shrimp, preferably wild, deveined
6 small calamari, bodies and tentacles separated, cleaned
8 ounces snapper, cut into crosswise slices
2 cups white wine
1 28-ounce can crushed tomatoes
¼ cup chopped Fresh Italian parsley
6 basil leaves, torn into small pieces
Pinch of fresh thyme leaves
Black pepper in a mill
Crushed red pepper
Hearth bread
Fill a large pot two-thirds full with water, bring to a boil over high heat and, when the water boils, add the pasta, stir until the water returns to a boil and cook according to package directions until just done. Drain but do not rinse the pasta.
While waiting for the water to boil, pour the olive oil into a large deep saucepan set over medium heat. Add the onions and garlic and sauté gently until the onions soften, about 3 minutes; season with salt.
Add the mussels and clams, cover the pan and cook for 5 minutes, until the shellfish begin to open.
Add the lobster tails, shrimp, calamari and snapper, turn very gently in the pan. Pour in the white wine and bring to a boil. Stir in the tomatoes, parsley, basil and thyme. Heat through, taste and season with salt and pepper. Cover and cook gently over very low heat for about 10 minutes.
When the pasta is cooked, divide it among individual pasta bowls and top each portion with a generous splash of the sauce. Enjoy the pasta first.
Use tongs to remove the lobster tails and cut them in pieces so that each guest has one. Divide the rest of the fish evenly, ladle the broth over it and enjoy right away, with crushed red pepper and bread alongside. The bread is for dipping into the delicious soup.
To drink: Pair with Diamond Collection's Pinot Noir.
Serves 3 to 6
Recommended Content
Tags
Italia Coppola, who dedicated her book, Mammarella: Mama Coppola's Pasta Cookbook, to her mother Anna Pennino, to her husband Carmine and to her three children, August, Francis and Talia, who have inherited both the Neapolitan spirit and its cooking