Zasa's Meat Sauce
Here are one of the two recipes by Italia's mother-in-law that she included in her book, Mama Coppola's Pasta Book. Look for meats cut for scaloppini or ask your butcher if she or he can slice some for you. For humane reasons, veal is much less common these days than it was when Zasa and Italia were cooking for their families. If you can find pastured veal, it is the best choice. You'll want to follow this rich dish with a delicate green salad and, if you'd like dessert, some fresh fruit.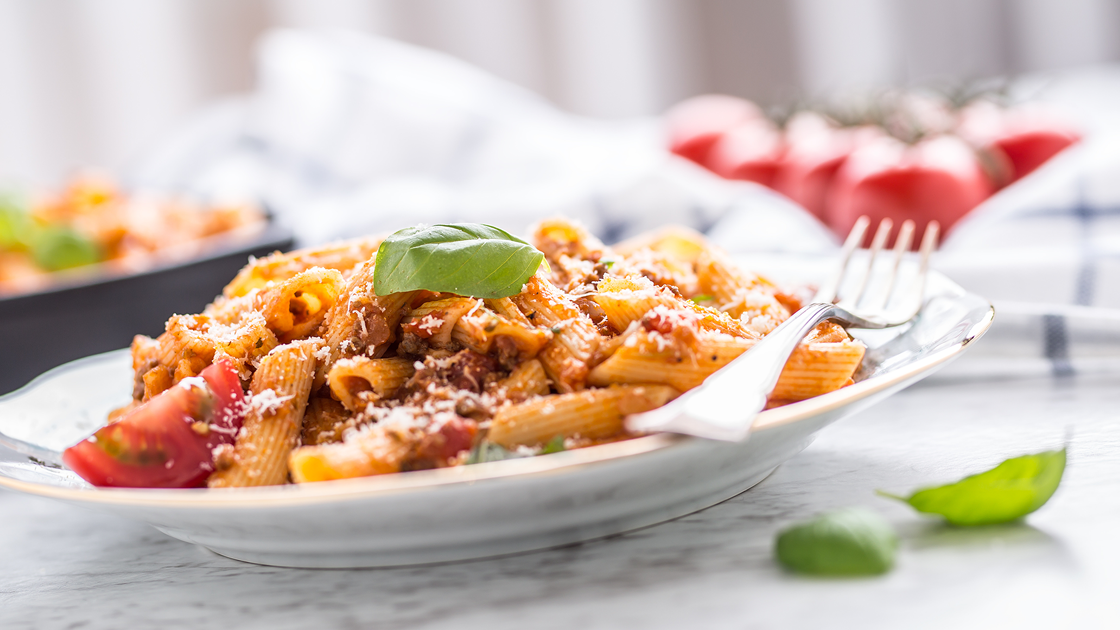 12 ounces thinly sliced lamb
12 ounces thinly sliced pork
12 ounces thinly sliced veal
12 ounces thinly sliced beef
Kosher salt
Black pepper in a mill
½ cup olive oil
1 tablespoon butter
1 small yellow onion, very thinly sliced
1 cup red wine
2 28-ounce cans crushed tomatoes
½ can (3 ounces) tomato paste
⅓ cup chopped fresh Italian parsley
½ teaspoon dried oregano
1 ½ pounds short pasta of choice, such as ziti, penne, rigatoni or cheese ravioli
Chunk of Parmigiana-Reggiano, or similar cheese
8 to 10 fresh basil leaves, stacked and cut into very thin ribbons
Set the meat on a clean work surface and season it all over with salt and pepper. Put the olive oil and butter into a large sauté pan set over medium heat and when the butter is fully melted, add the meat and brown it on both sides, working in batches if need be. Transfer the browned meat to a platter and set aside.
Add the onion and sauté until limp and fragrant, about 10 minutes. Add the wine, increase the heat to high and boil for 1 minute. Add the tomatoes and tomato paste, stir well and add the parsley and oregano. Simmer for 15 minutes.
Return the meat and any juices that have collected on the platter to the sauce, lower the heat, cover the pan and cook very gently, until the meat is completely tender. It will take between 35 minutes to 1 hour. Stir occasionally.
After you add the meat to the sauce, fill a large pot two-thirds full with water, add two tablespoons of salt and bring to a boil over high heat. Add the pasta and stir until the water returns to a boil. Cook according to package directions until just done. Drain the pasta, do not rinse it and tip it into a warmed serving bowl. Add a generous spoonful of sauce, cover with aluminum foil and a thick towel until the meat and sauce are done.
To serve, transfer the meat to a smaller bowl, cover with foil and keep hot.
Pour the sauce over the pasta, toss gently, grate some cheese on top and scatter with basil. Enjoy the pasta first and follow it with the meat.
To drink: Pair with Director's Cut Zinfandel.
Serves 6 to 8
Recommended Content
Tags
Italia Coppola, who dedicated her book, Mammarella: Mama Coppola's Pasta Cookbook, to her mother Anna Pennino, to her husband Carmine and to her three children, August, Francis and Talia, who have inherited both the Neapolitan spirit and its cooking.