Maria Zasa Coppola's Genovese-Style Pot Roast
Maria Zasa Coppola was Italia's mother-in-law and a great cook in her own right, as most Italian women of her time were. We don't know what type of mushroom she used in her pot roast but if she were cooking it in America, it most likely would have been commercial white mushrooms or canned mushrooms. In Italy, she would have had access to wild mushrooms, as we do today in the United States. Use any mushroom you like in this recipe; golden chanterelles are particularly good. Be sure to adjust the cooking time so that whatever mushroom you use is fully tender.
Pair with: Francis Ford Coppola Winery Director's Cut Cabernet Sauvignon or Director's Cut Zinfandel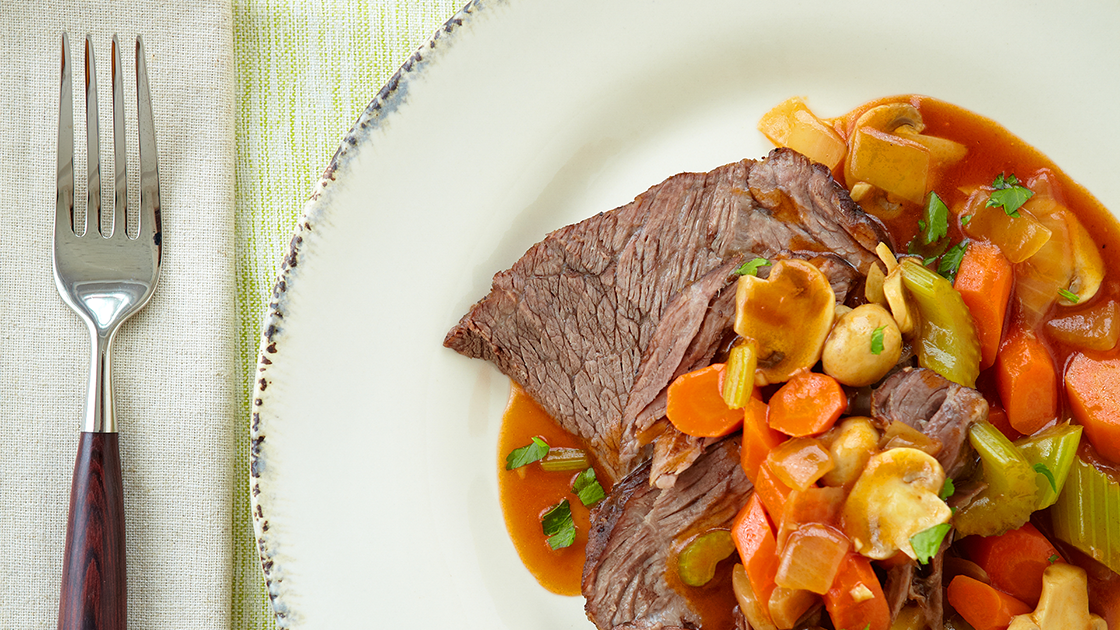 ¾ cup olive oil, plus more as needed
3 pounds beef chuck roast or similar cut
Kosher salt
Black pepper in a mill
1 garlic clove
2 yellow onions, very thinly sliced
1 large carrot, cut into small dice
3 celery stalks, cut into small dice
1 ½ cups dry red wine
1 garlic clove, crushed and minced
6 medium cremini mushrooms, thinly sliced
Pour half of the olive oil into a deep pot and set over medium heat.
Season the beef all over with salt and pepper, set it in the pot and cook on one side until browned, about 5 minutes. Turn and brown on the other side. Transfer to a plate or bowl.
Add the remaining olive oil to the pot and the whole garlic clove. Cook until the garlic is golden brown; use tongs to remove and discard it. Add the onions. carrot and celery. Cook until the vegetables are soft and fragrant, about 12 to 15 minutes; do not let them burn. Add the minced garlic, cook for 1 minute more and season with salt and pepper.
Return the meat to the pot, add the wine, cover the pan and simmer very gently until the meat is fork tender, about 2 hours.
Transfer the meat to a platter and cover lightly with a piece of aluminum foil.
Add the mushrooms to the pot and cook until they are tender, about 10 to 12 minutes. Taste, correct with salt and pepper.
Working quickly, slice the roast and pour the gravy over it.
Enjoy right away.
Serves 4 to 6
Recommended Content
Tags
Italia Coppola, who dedicated her book, Mammarella: Mama Coppola's Pasta Cookbook, to her mother Anna Pennino, to her husband Carmine and to her three children, August, Francis and Talia, who have inherited both the Neapolitan spirit and its cooking.