Talia's Quick Italian Tomato-Black Olive Sauce with Spaghetti
Here is an ideal weeknight dinner, when you're tired after work, there's homework to supervise and you're facing an early morning. It's just the sort of dish anyone with a well-stocked pantry should be able to make on a moment's notice. From start to finish, it's faster than any take-out option.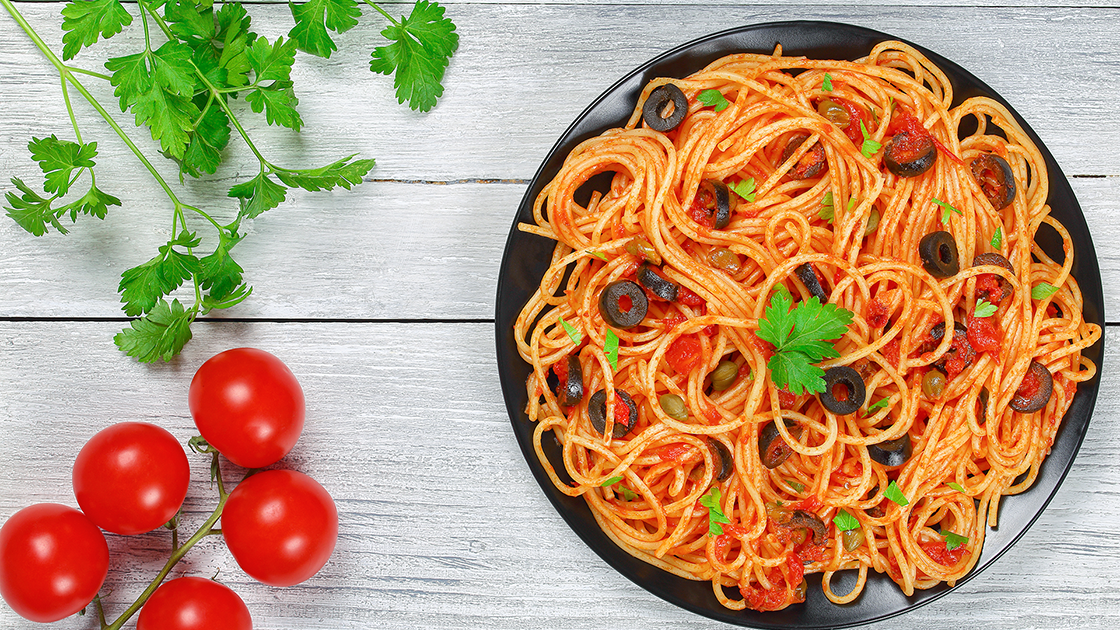 TALIA'S QUICK ITALIAN TOMATO-BLACK OLIVE SAUCE WITH SPAGHETTI
Ingredients
Kosher salt
1 pound dried spaghetti or similar strand pasta
¾ cup olive oil
1 garlic clove
1 28-ounce can crushed tomatoes, preferably organic
2 ¼ ounce can sliced California black olives
1 garlic clove, crushed and minced
Black pepper in a mill
1 tablespoon chopped fresh Italian parsley
Instructions
Fill a large pot two-thirds full with water, add 2 tablespoons of salt and bring to a boil over high heat. When the water reaches a rolling boil, add the pasta and stir until the water returns to a boil. Cook according to package directions until al dente. Drain, do not rinse and leave some of the cooking water clinging to the strands.
Meanwhile, put the olive oil into a medium sauté pan set over medium heat, add the whole garlic clove and, when it is golden brown, use tongs to remove and discard it.
Add the tomatoes and cook for about 10 to 12 minutes, until they thicken a bit. Add the olives, juices and all, and the minced garlic. Stir and heat through.
Season to taste with salt and pepper.
Working quickly, tip the pasta into a warmed serving bowl and pour the sauce on top. Use two forks to lift and turn the pasta in the sauce until it is evenly coated. Sprinkle the parsley on top and enjoy right away.
To drink: Pair with Director's Cut Cabernet Sauvignon
Serves 3 to 4
Recommended Content
Tags
Italia Coppola, who dedicated her book, Mammarella: Mama Coppola's Pasta Cookbook, to her mother Anna Pennino, to her husband Carmine and to her three children, August, Francis and Talia, who have inherited both the Neapolitan spirit and its cooking.