Spaghetti with Clams Al Bianca
Good living is all about sitting down with friends and loved ones to enjoy your favorite wine with a delicious meal. The Francis Coppola Diamond Collection offers multiple varietals crafted to express character, complexity, and multi-layered flavors that enhance your cuisine. Presented below is one of our Diamond Collection wines paired with a sumptuous recipe from the "Mammarella" Coppola Family Cookbook.
SPAGHETTI WITH CLAMS AL BIANCA
With pronounced floral notes on the nose and refreshing flavors of tangerine, peaches, pineapple, lime, and minerals, our Pinot Grigio, which is finished exclusively in stainless steel, has a sweet, juicy character, light refreshing texture, and distinct citrus notes that enhance the garlic and fresh parsley flavors in our easy-to-prepare Spaghetti with Clams al Bianco.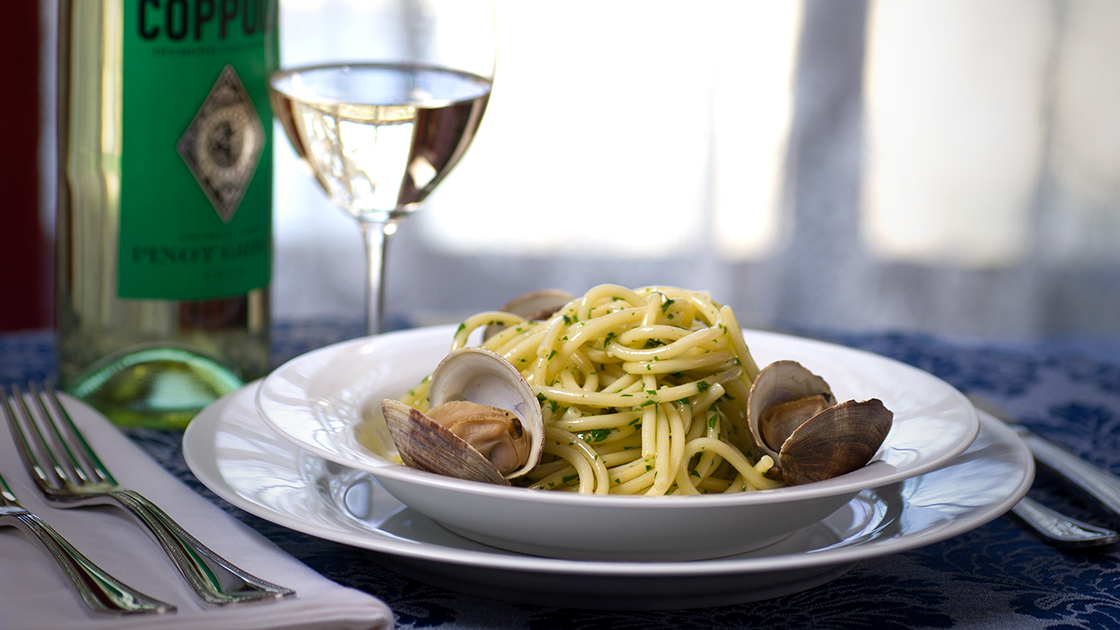 20 clams
4 cloves garlic, chopped
¾ cup olive oil
½ cup chopped parsley
1 lb. spaghetti cooked al dente
dash of black pepper
Cooking Instructions
Place clams in saucepan and pour olive oil, garlic, and parsley on top. Cover and cook over medium heat until clams open. After shells open, cook an additional 8 minutes. Over cooked pasta, pour sauce and season with black pepper. Top with open clams.
Serves 4
Recommended Content
Tags
Italia Coppola, who dedicated her book, Mammarella: Mama Coppola's Pasta Cookbook, to her mother Anna Pennino, to her husband Carmine and to her three children, August, Francis and Talia, who have inherited both the Neapolitan spirit and its cooking.