Potato Croquettes
The potato balls, crunchy on the outside and rich and tender on the inside, are so delicious that you might want to make a double batch of mashed potatoes so you'll be sure to have some leftover for making them. Serve them as a snack, as part of an antipasto platter or as a side dish.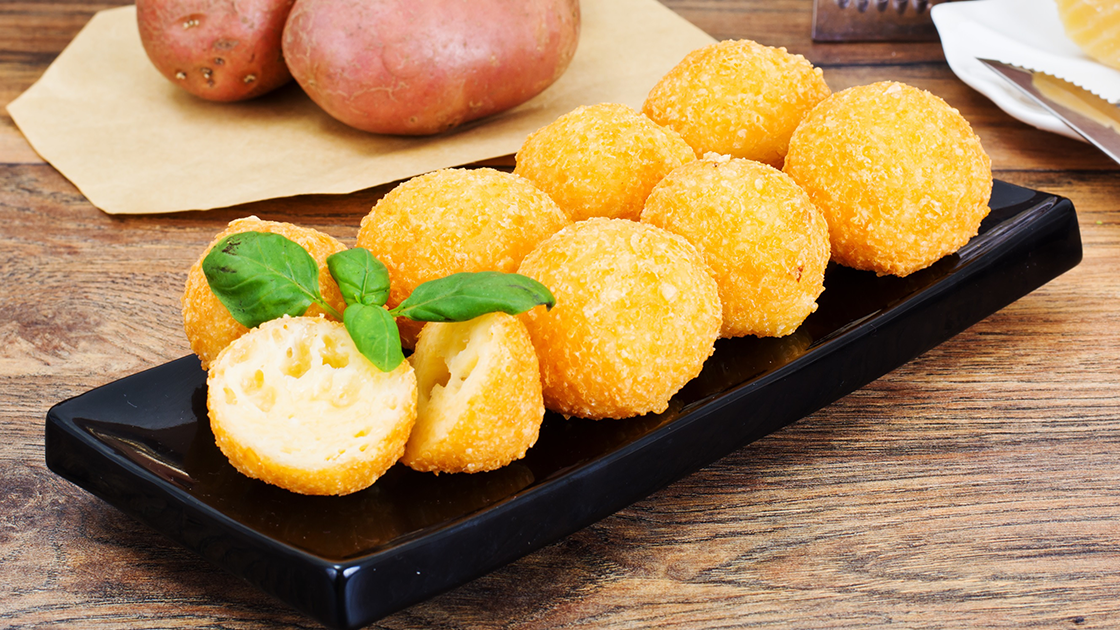 for the croquette dough
2 ½ cups mashed potatoes
2 tablespoons grated Parmigiano-Reggiano or similar cheese
1 tablespoon butter, at room temperature
1 large egg, beaten
1 teaspoon fresh chopped Italian parsley
Kosher salt
Black pepper in a mill
¼ pound mozzarella, in ¾-inch cubes
for the coating
1 cup flour
Kosher salt
Black pepper in a mill
Breadcrumbs, preferably homemade
2 eggs, beaten
Mild olive oil, for frying
1 bunch Italian parsley, large stems trimmed
Lemon wedges
Put the mashed potatoes, grated cheese, butter, egg and parsley in a bowl and mix thoroughly. Season to taste with salt and pepper.
Line a baking sheet with wax paper or parchment. Take a spoonful of the potato mixture and form a ball about the size of a golf ball. Press a cube of mozzarella into its center, press it closed and roll in your hands until it is perfectly round. Set it on the sheet pan. Continue until you've made all the dough into balls. Cover and refrigerate.
Put the flour in a wide bowl or on a medium plate, season with salt and pepper and mix with a fork. Put the breadcrumbs in a similar vessel and season with salt and pepper. Set the beaten eggs in between the two bowls.
Pour 2 ½ to 3 inches of olive oil into a medium saucepan and set over medium heat and heat oven to 360 degrees.
Set absorbent paper next to the stove.
While waiting for the oil to heat, dip the croquettes, one at a time, into the flour, the eggs and the breadcrumbs, turning each one so that it is evenly coated. Return the balls to the baking sheet.
When the oil is hot, add 3 to 4 croquettes to the hot oil and cook for 2 minutes, or until they are golden brown. Use a slotted spoon to turn them and cook for 2 minutes more. Turn again to be certain they are evenly cooked and transfer to the absorbent paper.
When all of the croquettes have been cooked, spread the parsley on a platter and set the croquettes on top. Add lemon wedges here and there and enjoy hot.
To drink: Pair with our Diamond Collection Pinot Grigio.
Serves 4 to 6
Recommended Content
Tags
Italia Coppola, who dedicated her book, Mammarella: Mama Coppola's Pasta Cookbook, to her mother Anna Pennino, to her husband Carmine and to her three children, August, Francis and Talia, who have inherited both the Neapolitan spirit and its cooking.