Mussels with Tomato Sauce
When Italia cooked mussels, she likely had to trim their long seaweed beards and scrub off, if possible, the barnacles who had attached themselves to the shells. Advances in shellfish cultivation has changed everything and made it much easier for home cooks to both get good mussels and prepare them. If you have to have a cache of wild mussels, do check them over before cooking them. And unlike farmed fish, which cause environmental harm and produce a product that is quite inferior to wild fish, farmed shellfish are not a problem. They are filter feeders and enjoy the same diet as their wild cousins.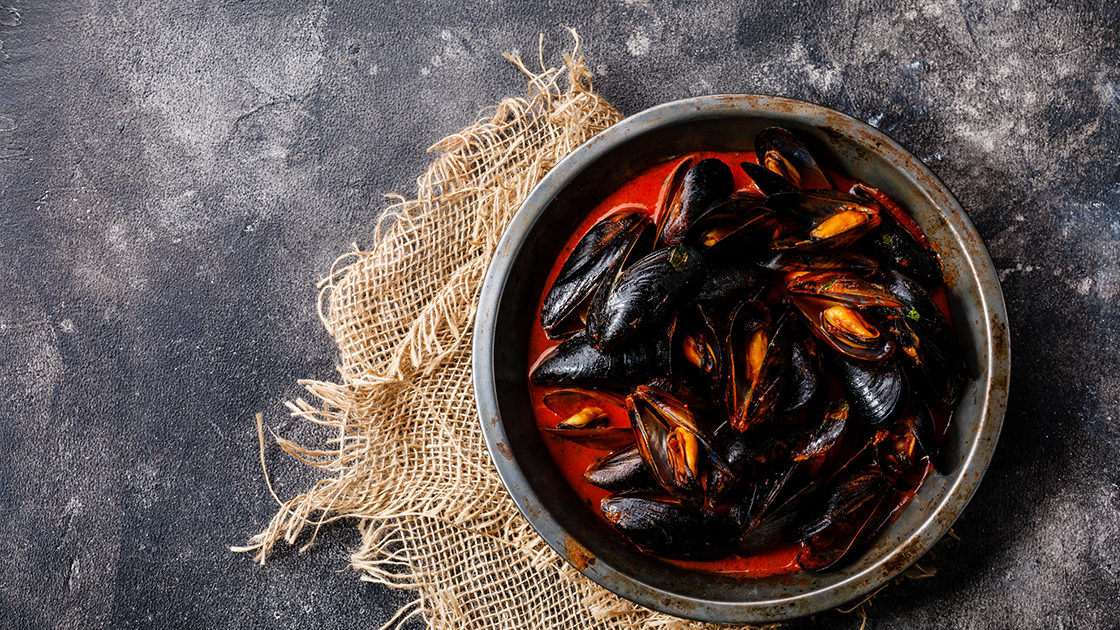 Kosher salt
1 pound linguini
2 pounds PEI mussels, scrubbed and rinsed
¾ cup olive oil
3 to 4 garlic cloves, crushed and minced
5 or 6 Roma tomatoes, cored, peeled and chopped or crushed
½ cup chopped fresh Italian parsley
Black pepper in a mill
Fill a large pot two-thirds full with water, add 2 tablespoons of salt and bring to a boil over high heat. When the water reaches a rolling boil, add the pasta and stir until the water returns to a boil. Cook according to package directions until al dente. Drain, do not rinse and leave some of the cooking water clinging to the strands.
Meanwhile, put the mussels into a large deep saucepan. Add the olive oil, garlic, tomatoes and all but a tablespoon of the parsley and set over medium heat. Cover the pan, cook for about 7 minutes, uncover and check to see if most of the mussels have opened. If they have not, cook 5 minutes more. Uncover and remove any mussels that remain tightly closed.
Working quickly, tip the drained pasta into a wide shallow serving bowl and use a slotted spoon to transfer the mussel to the bowl, placing them on top of the pasta.
Increase the heat under the cooking liquid and simmer until it thickens slightly. Taste and season with salt if needed. Pour over the mussels and pasta.
Sprinkle the reserved parsley on top and enjoy hot.
Variation:
For Al Bianco, omit the tomatoes. Add 3 tablespoons of butter to the cooking liquid, simmer until it is just melted, season to taste with salt and pour over the pasta and mussels. Grind black pepper on top and enjoy hot.
To drink: Pair with Director's Cut Sauvignon Blanc.
Serves 4 to 6
Recommended Content
Tags
Italia Coppola, who dedicated her book, Mammarella: Mama Coppola's Pasta Cookbook, to her mother Anna Pennino, to her husband Carmine and to her three children, August, Francis and Talia, who have inherited both the Neapolitan spirit and its cooking.