Linguini with Clams Al Bianco
Spaghetti alle Vongole, a dish that appears on nearly every Italian restaurant menu in the United States, is similar to Italia's dish. The main differences are that she does not add white wine and does not add lemon juice. If you want that kick of acid, just squeeze a lemon wedge over the pasta just before tucking into it.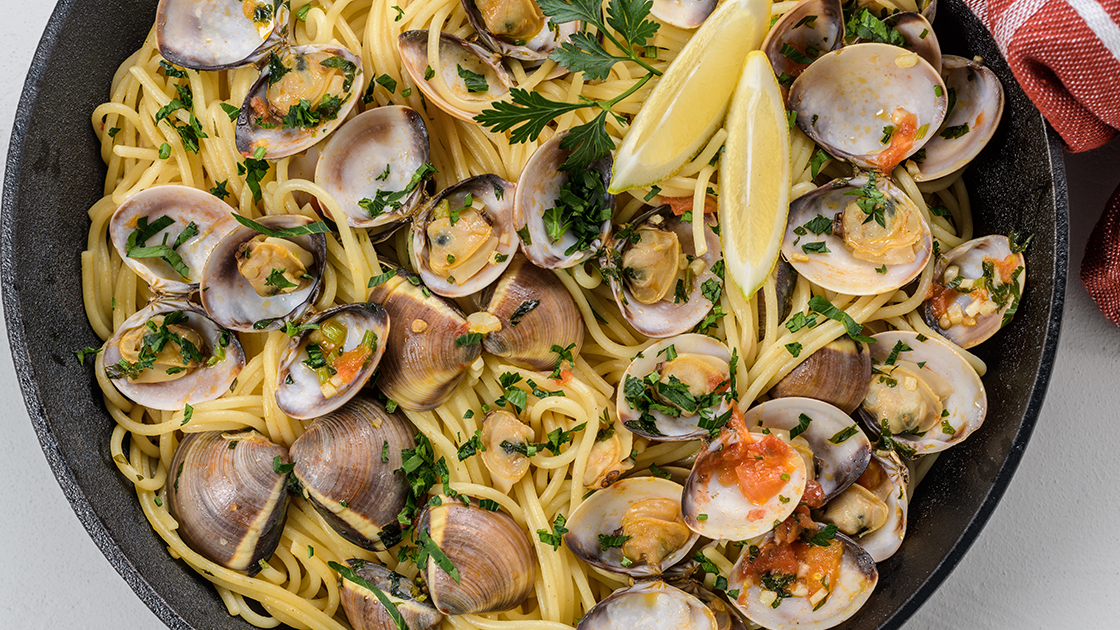 Kosher salt
1 pound linguini or spaghetti
2 pounds very small clams in their shells, scrubbed and rinsed
¾ cup olive oil
4 to 5 garlic cloves, crushed and minced
½ cup chopped fresh Italian parsley
Black pepper in a mill
Crushed red pepper
Lemon wedges
Fill a large pot two-thirds full with water, add two tablespoons of kosher salt and bring to a boil over high heat. When the water reaches a rolling boil, add the pasta and stir until the water returns to a boil. Cook according to package directions until al dente. Drain, do not rinse and leave some of the cooking water clinging to the strands.
Working quickly, put the clams into a wide, deep saucepan. Add the olive oil and the garlic, set over medium high heat, cover the pan and cook for 5 minutes, or until the clams open. Uncover, check the clams and discard any that remain tightly shut.
Cover the pan again and cook 5 minutes more. Add the parsley and remove from the heat.
Put the drained pasta into a wide shallow bowl that you have warmed and pour the clams and all the cooking juices on top. Season with several turns of black pepper, garnish with lemon wedges and enjoy right away, with the crushed red pepper alongside for guests who appreciate a bit of heat.
Variation:
To make this dish with mussels instead of clams, simply replace the clams with PEI (Prince Edward Island) or similar black mussels that you've rinsed and, if necessary, scrubbed.
To drink: Try Diamond Collection's Pinot Grigio.
Serves 4 to 6
Recommended Content
Tags
Italia Coppola, who dedicated her book, Mammarella: Mama Coppola's Pasta Cookbook, to her mother Anna Pennino, to her husband Carmine and to her three children, August, Francis and Talia, who have inherited both the Neapolitan spirit and its cooking.