Lasagna with Meat Sauce
Good living is all about sitting down with friends and loved ones to enjoy your favorite wine with a delicious meal. The Francis Coppola Diamond Collection offers multiple varietals crafted to express character, complexity, and multi-layered flavors that enhance your cuisine. Presented below is one of our Diamond Collection wines paired with a sumptuous recipe from the "Mammarella" Coppola Family Cookbook.
LASAGNA WITH MEAT SAUCE
Our Merlot has structure and complexity, but soft, smooth tannins. Sourcing fruit from several different appellations is how we achieve its seductive texture. Lovely nuances of cherries, currants, blueberries, vanilla, and oak stand up to the richness of our sumptuous Lasagna, which features a generous helping of three cheeses along with ground beef and pork.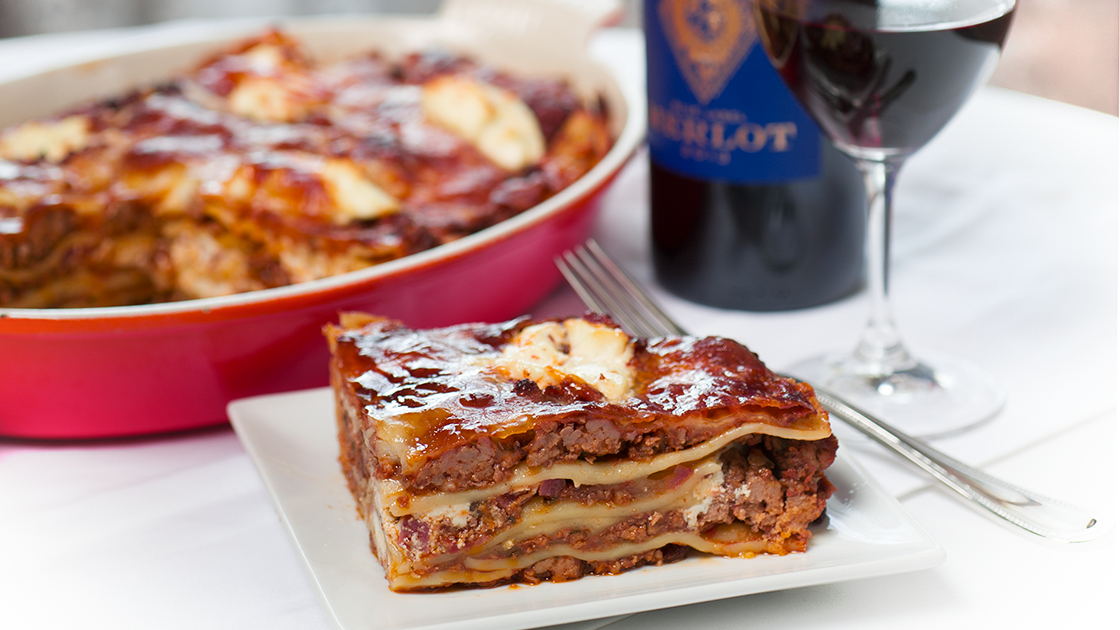 Lasagna
1 lb. lasagna pasta cooked al dente
1½ cups ricotta
3 cups meat sauce*
1 lb. mozzarella, sliced thin
½ cup Parmesan cheese
3 slices boiled ham or salami chopped
12 fresh basil leaves
*Meat Sauce
2 cans crushed plum tomatoes
½ lb. each of ground beef, lamb, veal, and pork
½ can tomato paste
½ cup olive oil
1 cup red wine
1 TB butter
¼ cup onion, chopped
1/3 cup fresh parsley
¼ tsp fresh oregano, minced
¼ tsp fresh basil, minced
salt & pepper
Cooking Instructions
To prepare meat sauce, brown meats in olive oil and butter. In a separate pot, sauté onions. Add wine and simmer on high for one minute. Add tomatoes, tomato paste, herbs, salt, and pepper. Simmer 15 minutes before adding meat to sauce pot. Simmer on low heat 1 hour. For lasagna, spread 1 cup meat sauce on bottom of baking dish, then layer lasagna noodles and more sauce. Drop ricotta by the spoonful and a layer of Parmesan and mozzarella, ham or salami. Repeat pasta, sauce, cheese, and meat layers several times, ending with mozzarella on top. Bake at 350° until cheese is bubbling. Cut into squares and top with basil leaves.
Serves 6 to 8
Recommended Content
Tags
Italia Coppola, who dedicated her book, Mammarella: Mama Coppola's Pasta Cookbook, to her mother Anna Pennino, to her husband Carmine and to her three children, August, Francis and Talia, who have inherited both the Neapolitan spirit and its cooking.