Italia's Roasted Peppers with Olives & Anchovies Recipes
Green bell peppers, Italia explained in her book, are the second most popular ingredient in the cooking of Naples, after tomatoes. When these peppers are cooked with their skins on, they can have a strong, almost bitter flavor but when the skin is seared and removed, their sweetness shines through deliciously.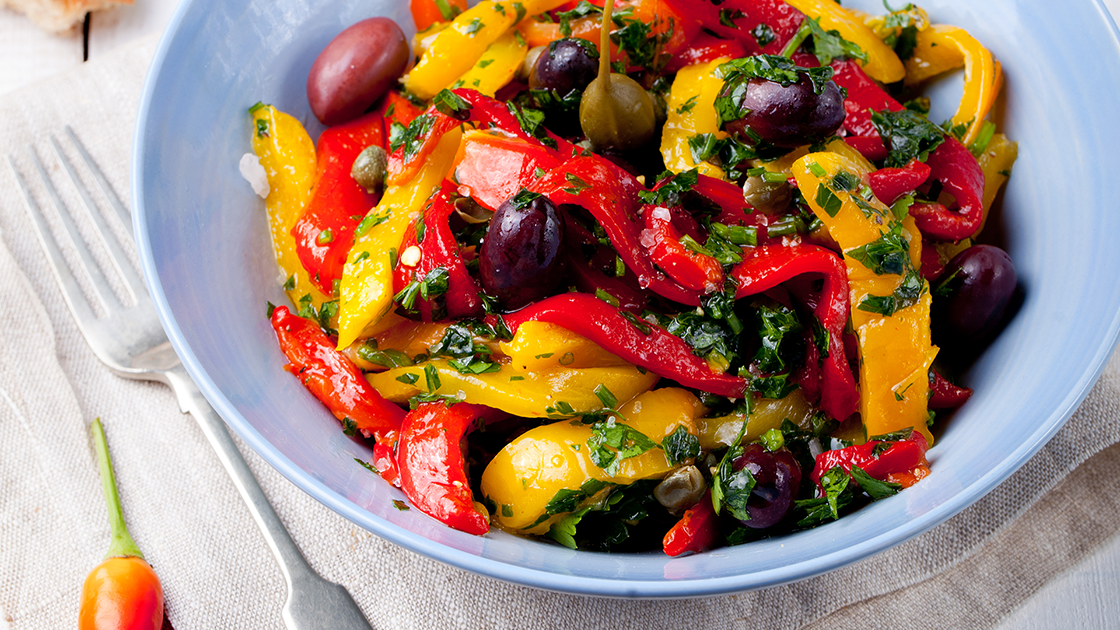 2 large green bell peppers
2 large red bell peppers
2 large yellow bell peppers
1 garlic clove, crushed and minced
6 anchovy fillets
6 pitted olives, green or black, sliced lengthwise
2 to 3 tablespoons extra virgin olive oil
Kosher salt
Black pepper in a mill
Sear the skins of the peppers over an open flame or on a grill until they are evenly blackened; turn frequently so the flesh does not cook or char. Transfer to a paper bag to steam and cool.
When the peppers have cooled, shake them in the bag and then tip them into a large bowl. Use your fingers to pull off all of the blackened skin, much of which should have come off and remained in the bag.
Use a sharp paring knife to cut out and discard the stem and seed core.
Tear the peppers into lengthwise strips. Scatter the garlic, anchovies and olives on top, drizzle olive oil over everything and season with salt and pepper.
Enjoy at room temperature.
To drink: Pair with Director's Cut Sauvignon Blanc.
Recommended Content
Tags
Italia Coppola, who dedicated her book, Mammarella: Mama Coppola's Pasta Cookbook, to her mother Anna Pennino, to her husband Carmine and to her three children, August, Francis and Talia, who have inherited both the Neapolitan spirit and its cooking.