Italia's Fried Zucchini with Fresh Mint
Romanesco zucchini is a remarkable variety, as it remains delicious no matter how big it gets. It also holds up to lengthy cooking without turning mushy.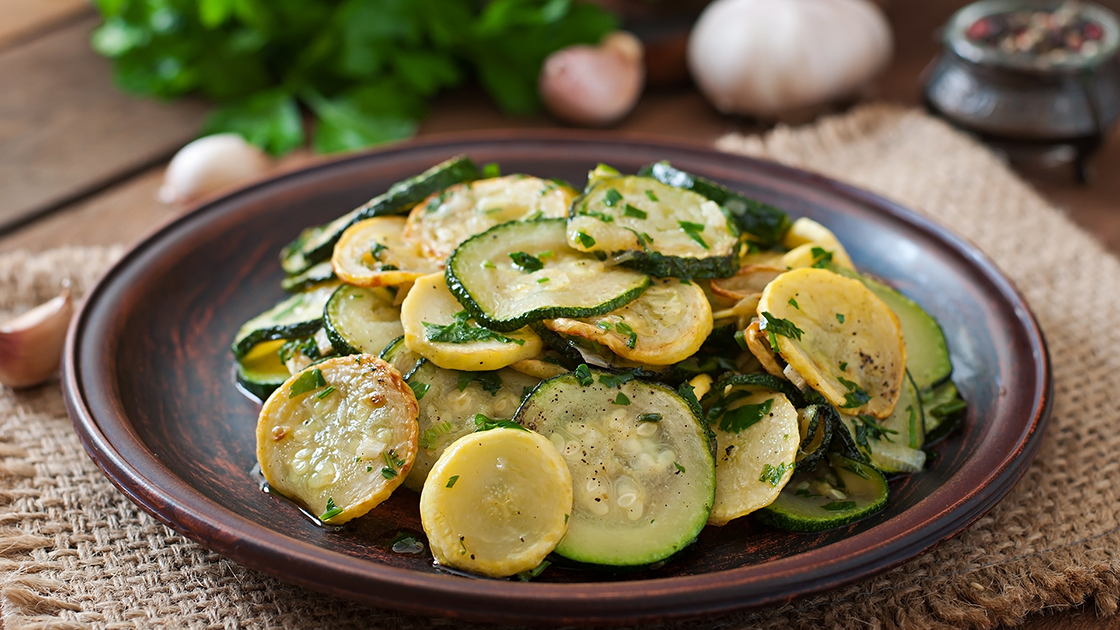 ITALIA'S FRIED ZUCCHINI WITH FRESH MINT
Ingredients:
2 to 3 tablespoons olive oil
5 small-medium zucchinis, preferably Romanesco variety, trimmed and cut into ¼-inch rounds
2 to 3 garlic cloves, crushed and minced
1 to 2 tablespoons red wine vinegar
Kosher salt
Black pepper in a mill
10 to 12 fresh spearmint leaves, cut into very thin ribbons
Instructions:
Put 2 tablespoons of the olive oil into a heavy skillet, set over medium high heat and add the zucchini. Cook, turning the zucchini after 2 minutes and again after 4 minutes, until it is golden brown on both sides. If the pan seems a bit dry at any point, add the remaining olive oil.
Transfer the cooked zucchini to a serving dish or platter.
Sprinkle the garlic over the zucchini, followed with the vinegar, using as much as you like. Season with salt and several turns of black pepper. Scatter the mint leaves on top and enjoy hot. If there are any leftovers, you can refrigerate them and either reheat them or enjoy them chilled.
To drink pair with: Francis Coppola Winery Diamond Collection Sauvignon Blanc
Serves 4
Recommended Content
Tags
Italia Coppola, who dedicated her book, Mammarella: Mama Coppola's Pasta Cookbook, to her mother Anna Pennino, to her husband Carmine and to her three children, August, Francis and Talia, who have inherited both the Neapolitan spirit and its cooking.