Italia's Eggplant Parmigiano
If practice makes perfect, this dish is flawless. When Italia, as a new bride, learned her in-laws were coming and looking forward to her Neapolitan cooking, she understandably grew nervous, so nervous that once she planned the menu, she prepared it every night for a week before Agostino and Marie Coppola arrived. She tossed the first several batches into the trash because she was not satisfied with them but finally had a version that she was proud to serve. Marie and Agostino praised her cooking as they left to return home. Ahh, success.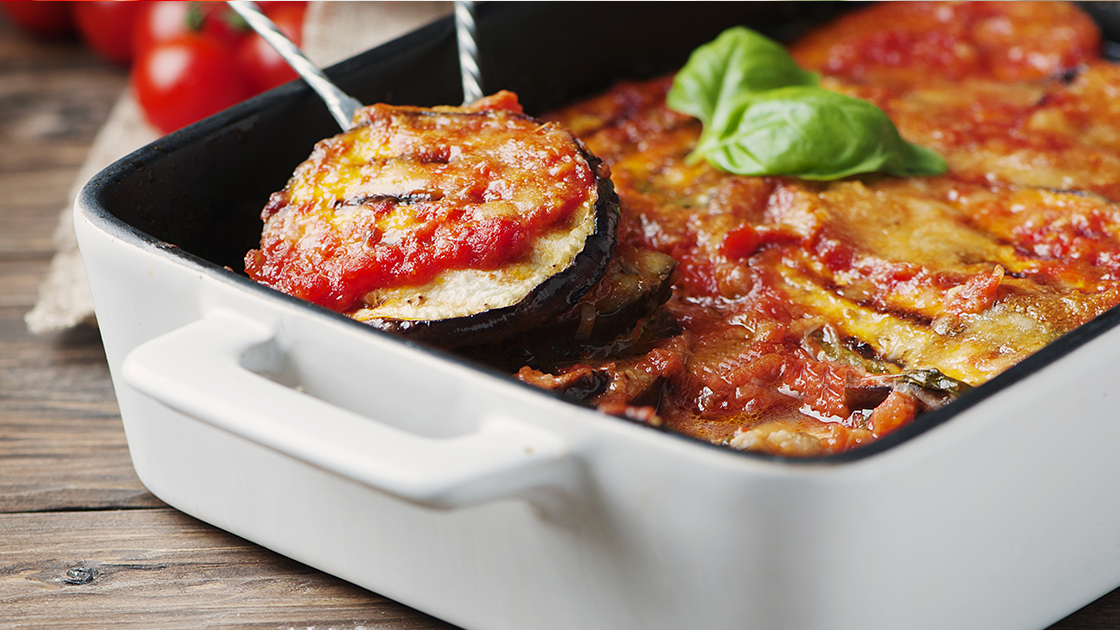 Italia's Quick Tomato Sauce, Dr. Pomponio's Quick Pasta Sauce or Talia's Quick Italian Tomato-Black Olive Sauce
2 large eggplant, ends trimmed
2 eggs
½ cup milk
1 tablespoon chopped fresh Italian parsley
2 garlic cloves, crushed and minced
Kosher salt
Black pepper in a mill
2 cups breadcrumbs, preferably homemade
4 tablespoons olive oil, plus more as needed
6 to 8 ounces mozzarella, thinly sliced
¼ cup grated Parmigiano-Reggiano or similar cheese
Several leaves fresh basil, very thinly sliced
First, make the tomato sauce and set it aside.
Cut the trimmed eggplant into ¼-inch thick lengthwise slices and set them aside.
Break the eggs into a medium bowl and whisk until smooth. Add the milk, parsley, and garlic and season well with salt and pepper.
Put the breadcrumbs into a wide shallow bowl.
Set absorbent paper next to the stove.
Pour enough olive oil into a heavy skillet to coat well. Set the skillet over medium heat.
Dredge a slice of eggplant in the egg mixture and then press both sides into the bread crumbs. Put as many eggplant slices as the pan will hold in a single layer and cook for 2 minutes, until lightly browned. Turn and cook for 2 to 3 minutes more. Transfer to absorbent paper and continue until all the eggplant has been fried and drained. Add more olive oil to the pan as needed.
Preheat the oven to 325 degrees.
Set a medium sized baking dish next to your work surface and brush the inside with olive oil. Add a layer of eggplant. Top each slice with about a tablespoon of sauce and cover with mozzarella. Repeat until you have used all the eggplant. Pour the remaining sauce over the eggplant, top with any mozzarella that is left and scatter the Parmigiano-Reggiano on top, followed by the basil.
Season with salt and pepper, then set on the middle rack of the oven. Cook for about 15 minutes, or until the eggplant is heated through and the cheese is fully melted.
From the oven, let rest 5 minutes and enjoy hot.
Serves 4 to 6
Recommended Content
Tags
Italia Coppola, who dedicated her book, Mammarella: Mama Coppola's Pasta Cookbook, to her mother Anna Pennino, to her husband Carmine and to her three children, August, Francis and Talia, who have inherited both the Neapolitan spirit and its cooking.