Italia's Butter Shrimp
"I didn't know what to do about the measurements or quantities because I'd never measured anything. I never know if I can make a dish taste exactly like I've done the time before. I believe that the best cooking is what you recall from memory and prepare with whatever you have in the house at the time." - Italia Coppola
Bold, rustic and delicious, Italia's shrimp are delightful and messy. Be sure to have plenty of napkins on the table and add a bowl for the shrimp shells, too.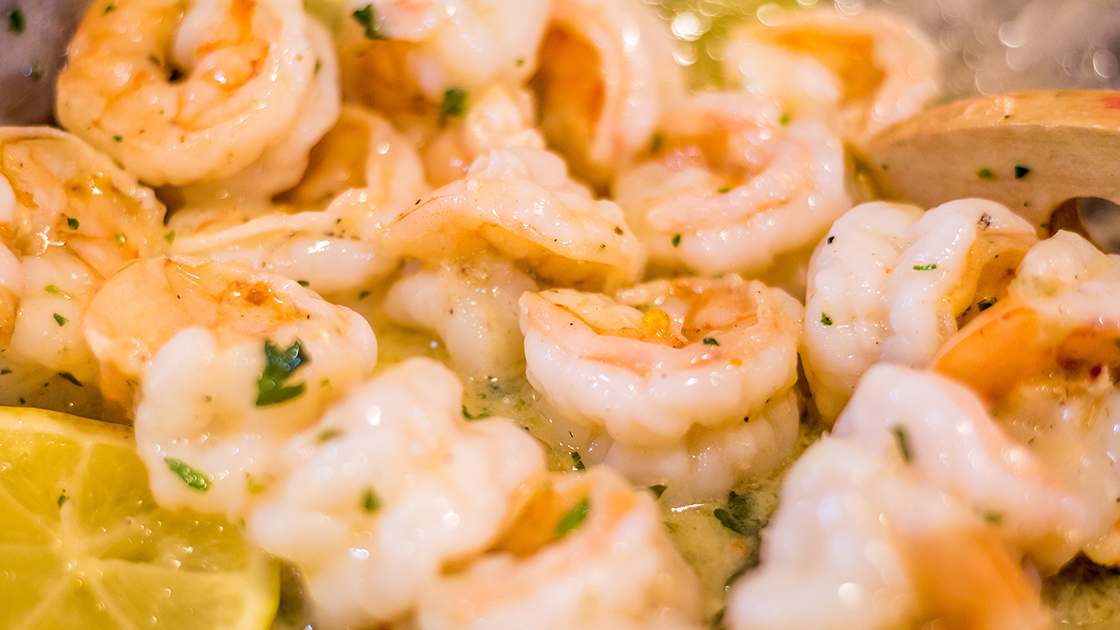 ITALIA'S BUTTER SHRIMP
Ingredients
4 pounds fresh wild shrimp, in their shells, rinsed
4 sticks (1 pound, 2 cups) butter
¼ cup Worcestershire sauce
1 teaspoon Tabasco sauce, plus more to taste
4 tablespoons freshly ground black pepper
1 tablespoon kosher salt
2 lemons, thinly sliced
Sourdough hearth bread, hot
Instructions
Preheat the oven to 375 degrees.
Spread the shrimp in a roasting pan.
Put the butter, Worcestershire sauce, Tabasco sauce, black pepper and salt into a medium saucepan and set over medium heat. When the butter is melted, stir the sauce and pour it over the shrimp.
Cover the shrimp with the lemon slices, set on the middle rack of the oven and cook until the shells turn pink, about 15 to 25 minutes.
Transfer the pan with the shrimp to a work surface and divide the shrimp and pan juices among individual bowls. Enjoy right away, with hot bread for soaking up the delicious juices.
Variation:
To broil the shrimp, prepare as instructed in the main recipe but preheat the broiler instead of the oven. Set the shrimp under the broiler and turn them every 3 minutes so that they cook evenly. Do not let them burn.
To drink: Pair with Diamond Collection Pavilion Chardonnay
Serves 4 to 6
Recommended Content
Tags
Italia Coppola, who dedicated her book, Mammarella: Mama Coppola's Pasta Cookbook, to her mother Anna Pennino, to her husband Carmine and to her three children, August, Francis and Talia, who have inherited both the Neapolitan spirit and its cooking.