Italia Coppola's Braciole
Good living is all about sitting down with friends and loved ones to enjoy your favorite wine with a delicious meal. The Francis Coppola Diamond Collection offers multiple varietals crafted to express character, complexity, and multi-layered flavors that enhance your cuisine. Presented below is one of our Diamond Collection wines paired with a sumptuous recipe from the "Mammarella" Coppola Family Cookbook.
ITALIA COPPOLA'S BRACIOLE
No rules apply. The sky's the limit with our Diamond Collection Red Blend. We typically blend a combination of Cabernet Sauvignon, Zinfandel, Syrah, and Merlot – or other red varietals that stand out in the vintage – to create the most distinctive wine we can. Our Red Blend is dark and luscious, making it a worthy partner to Italia Coppola's Braciole with Rich Tomato Sauce. Not only does this savory dish have a beautiful presentation, it tastes delicious with our wine's dark, jammy berry flavors and its fragrant notes of violets, spices, and toasted oak.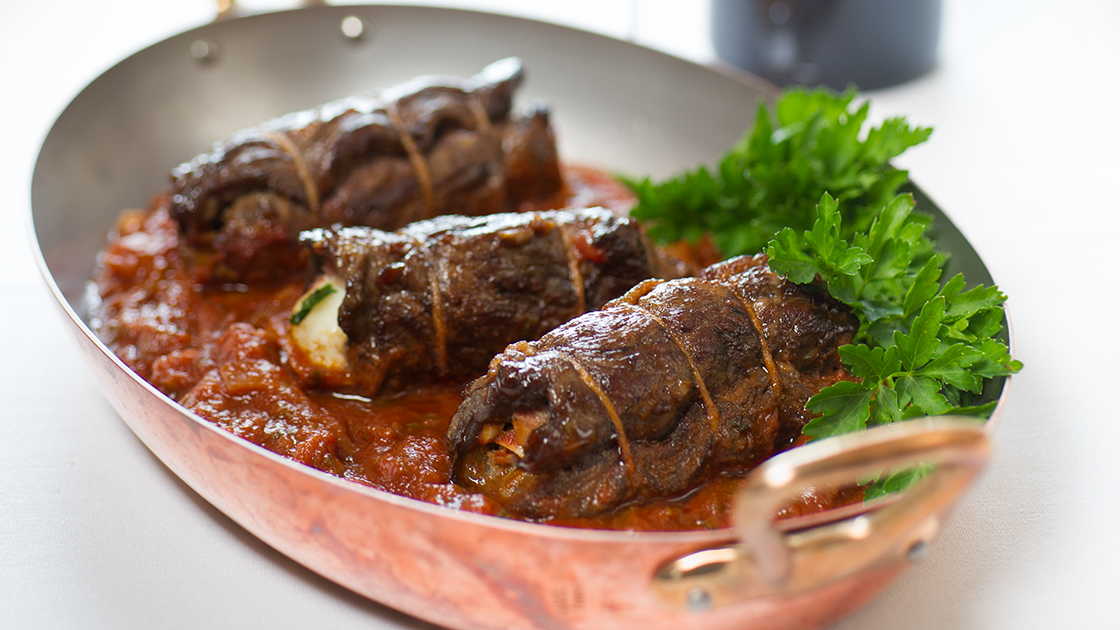 2 lbs. top round steak, sliced
1 cup olive oil
2 hardboiled eggs, sliced
1/3 cup pine nuts
¼ cup grated Parmesan cheese
2 cloves garlic, chopped
2 slices of ham, diced
1 cup red wine
1 large can crushed tomatoes
1 can tomato paste
½ cup chopped parsley
1 onion, sliced
2 TB fresh basil, torn
½ tsp oregano
Cooking Instructions
Divide meat into two 1-pound pieces and pound beef between wax paper until thin. On each slice of beef add chopped garlic, pine nuts, hardboiled eggs, ham, and parsley. Season with salt, pepper, and a little grated cheese. Carefully roll up beef and secure with cooking string horizontally and vertically to contain the filling. In a large, deep pan, cook each roll in hot oil and brown on all sides. Remove from pan and set aside to prepare sauce. Add wine, canned tomatoes, tomato paste, onion, parsley, basil, and oregano. Simmer sauce on medium heat for 15 minutes and then return meat to sauce. Cover and cook until meat tender 1-2 hours. Place beef on a cutting board, remove string and slice meat to arrange on plate topped with sauce.
Serves 6 to 8
Recommended Content
Tags
Italia Coppola, who dedicated her book, Mammarella: Mama Coppola's Pasta Cookbook, to her mother Anna Pennino, to her husband Carmine and to her three children, August, Francis and Talia, who have inherited both the Neapolitan spirit and its cooking.