Grilled Pizza
This is a twist on the traditional home-baked pizza for summertime entertaining. The beauty of this recipe is that it allows everyone to personalize their own pizza to their taste. Once shaped, the pizzas grill up in a matter of minutes, the key is organizing the toppings beforehand. It's great for an outdoor pizza party and gives the grill another purpose in the season of outdoor dinner parties and barbecues. It also pairs perfectly with the Diamond Collection Pinot Noir cans!
Ingredients
Dough:
2 1/4 teaspoons active yeast
1 1/4 cup lukewarm water
3 cups bread flour
1/2 teaspoon kosher salt
2 tablespoons extra virgin olive oil
Basic Tomato Sauce:
extra virgin olive oil
1/2 yellow onion, diced
2 garlic cloves, minced
1 28 oz can diced tomatoes
1 tablespoon tomato paste
1 teaspoon dried oregano
1 tablespoon fresh chopped basil
1/2 teaspoon kosher salt
cracked black pepper
Arugula Basil Pesto:
2 garlic cloves
1/2 cup freshly grated parmesan reggiano
1/2 cup pine nuts or chopped walnuts
1 bunch fresh basil, about 1 cup
1 cup packed arugula
1 cup extra virgin olive oil
pinch of kosher salt
cracked black pepper to taste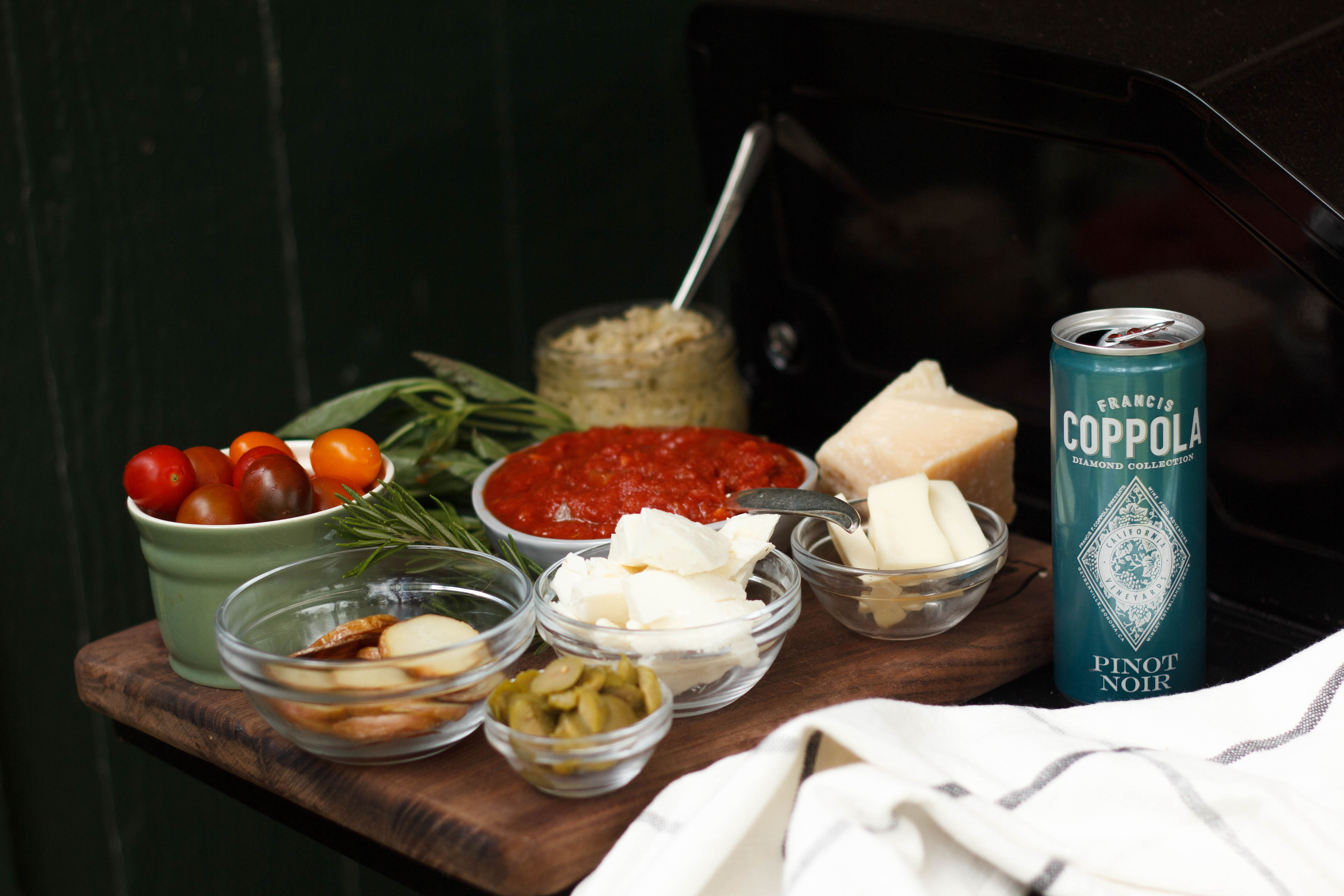 Topping Suggestions:
Cherry Tomatoes
Arugula
Torn basil
Chopped olives
Prosciutto
Halved Figs
Caramelized Onions
Mozzarella
Pecorino Romano
Parmigiano Reggiano
Tallegio
Burrata
Your choice of veggies*
*Any added veggies like zucchini, squash, potato, broccoli rabe, onions, peppers etc should be pre-sautéed or grilled before adding them as toppings.
Directions
To make the dough:
In a stand mixer with dough hook or large mixing bowl, combine the yeast and water together. Stir the yeast until it is fully dissolved and let it rest for 10 minutes.
On low speed, gradually add the flour cup by cup to the bowl. Mix until the flour is thoroughly combined about 2 minutes.
Add the salt to the dough and mix it in for just a minute on low speed. Let the dough rest for an additional 15 minutes.
Continue to knead the dough for 8-10 minutes on medium speed or with your hands on a floured work surface while gradually pouring in the olive oil until it is smooth and satiny.
Keep the dough in the bowl and cover with plastic wrap or tea towel. Allow the dough to rise in a warm spot in the house for about 1-2 hours, until it has doubled in size.
Once it has doubled in size, remove the dough from the bowl and place it on a lightly floured work surface.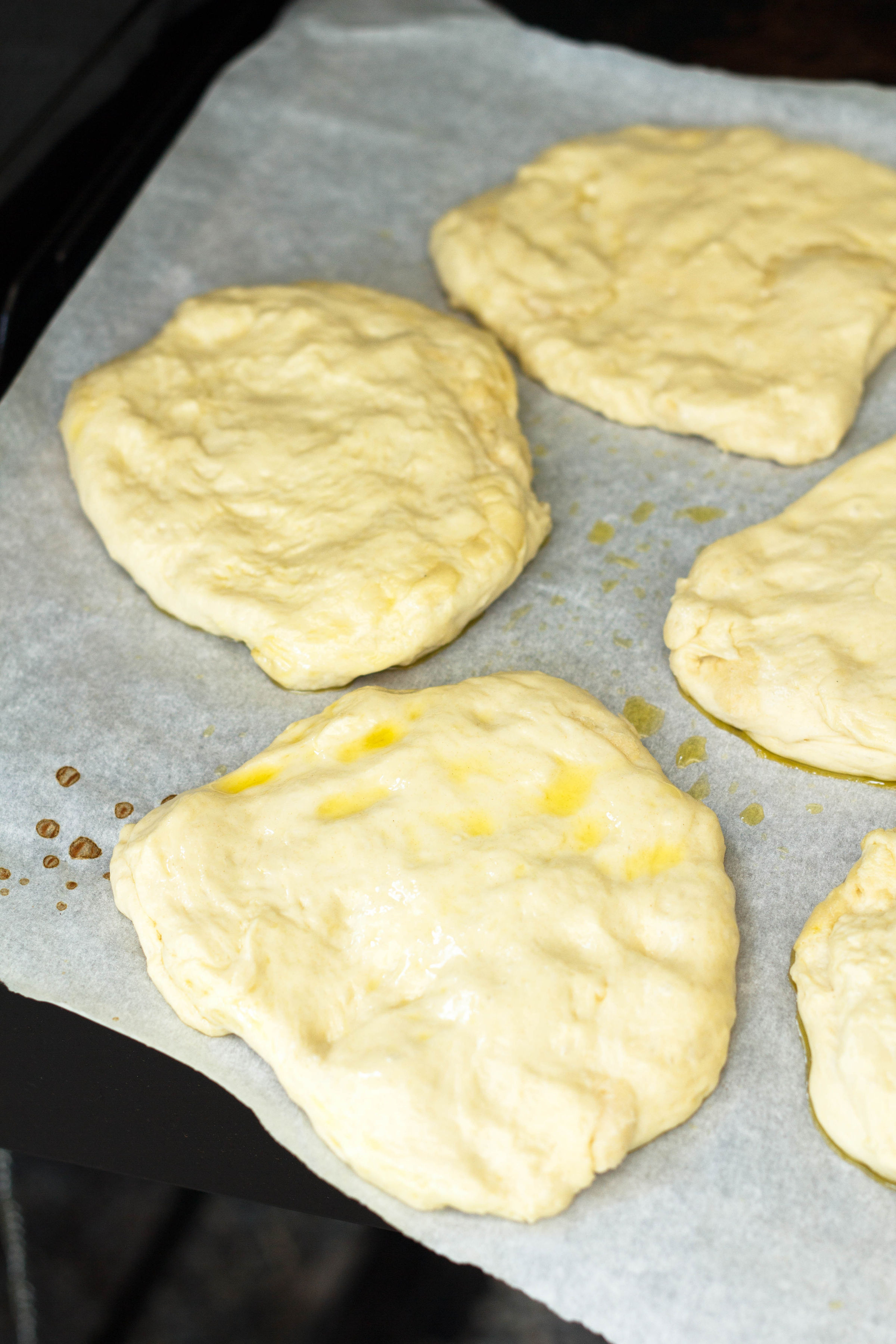 Gather a parchment lined baking sheet that you will use to pat down the dough.
Decide the size and number of pizzas you would like to make. You can make either 6-8 individual pizzas or 2 larger rounds.
Shape the dough on the parchment paper by patting it down on your hands with a drizzle of olive oil. It should be roughly 1/2"-1" thick. Flip the shaped pizza over and brush the other side with olive oil.
Continue to shape each pizza and place them on the parchment paper.
Let the shaped dough rest for at least 30 minutes while you prepare your toppings.
Gather all of your toppings, sauces, and seasonings on a large tray (with spoons if needed) and place it right by your grill. It makes it so much easier to have everything prepared when you're at the grill as the pizzas cook fast.
Once you are ready to grill, turn on it on to medium-high heat.
Once it's the grill is at least up to 350 degrees or when the grills are nice and hot, using your hands, take a pizza round and place it directly on to the grill. Be sure they are lightly brushed with oil. They make not be perfectly shaped and look rather look a bit rustic which is fine.
You have to be quick about it and it's best to have all of the pizzas on the grill at the same time.
Let the pizzas grill for about 5 minutes on one side, although keep an eye on them as the temperature may change. Close the grill to cook the pizzas for a minute or two. Brush the side facing up with more olive oil.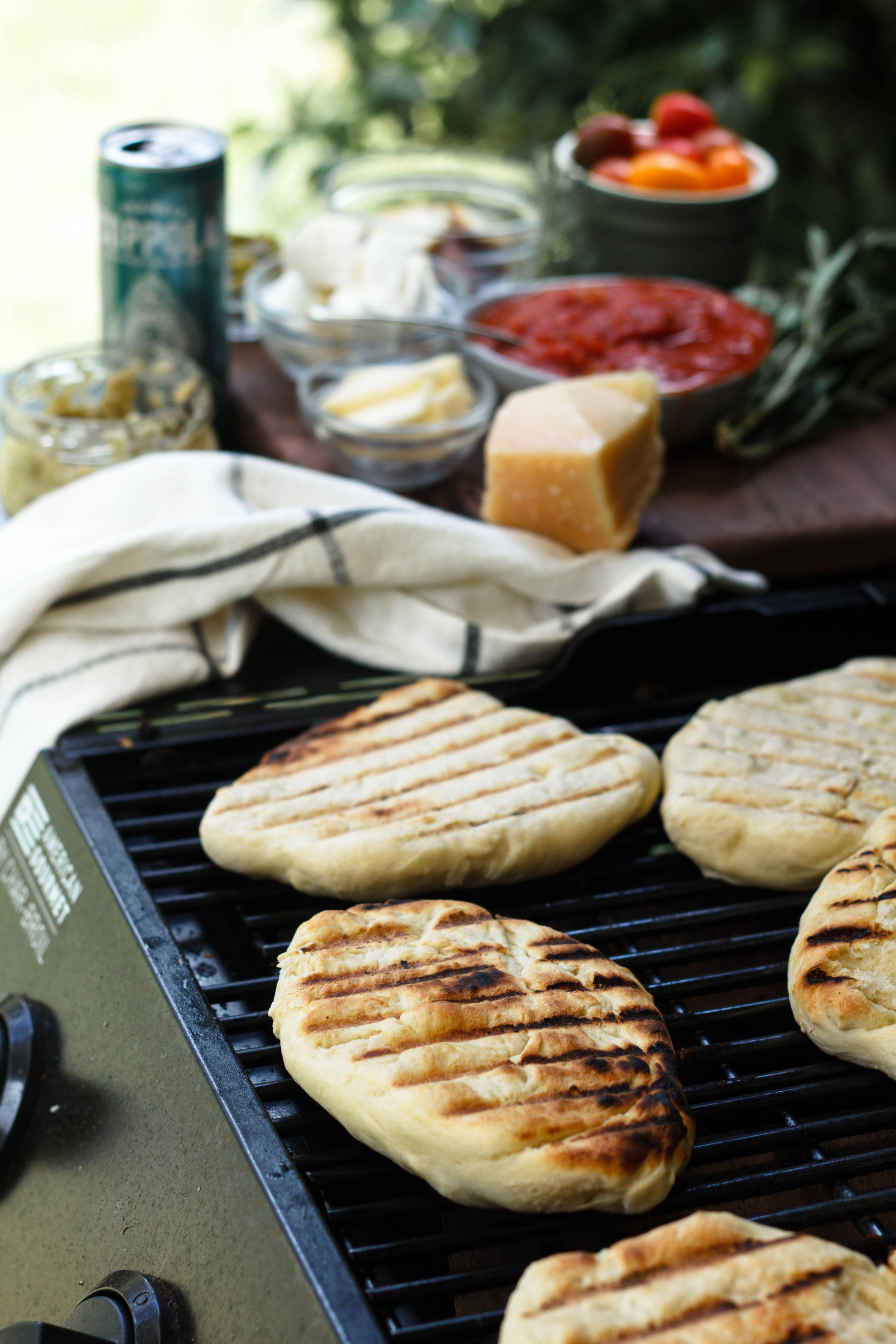 Take a peek underneath to check if they are a nice golden brown with a slight char.
Using a spatula or tongs, flip over the pizzas all at once.
Immediately dress the pizzas with your selected toppings and seasonings as you would a normally baked pizza. Have fun with the toppings there is no right or perfect combinations besides whatever you prefer!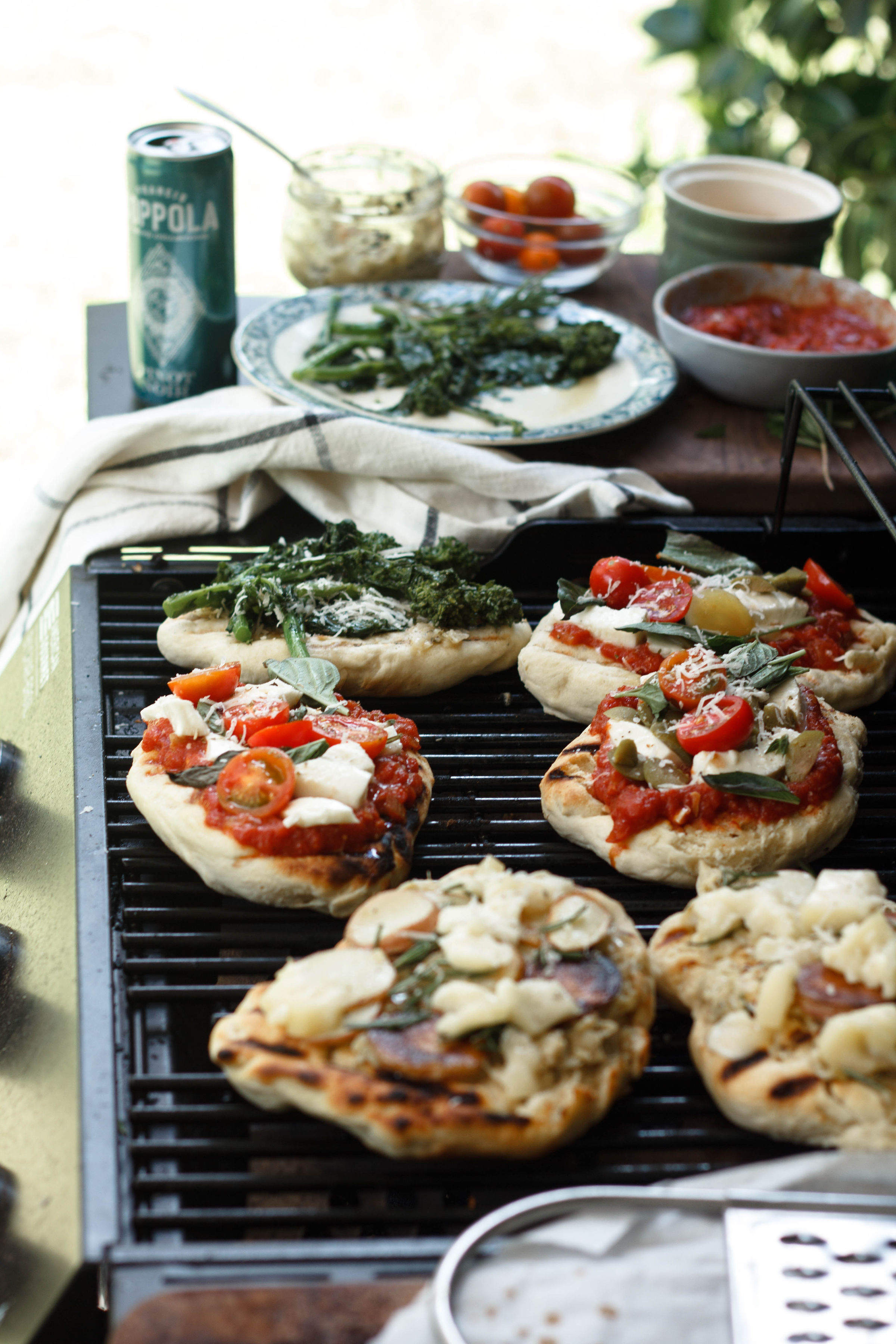 Close the grill to melt the cheese for a minute or two.
Continue to grill for an additional 3-5 minutes. You may need to lower the grill if they are getting too crisp.
Remove from the grill onto a serving board and serve immediately. Add additional fresh herbs or seasonings if you like.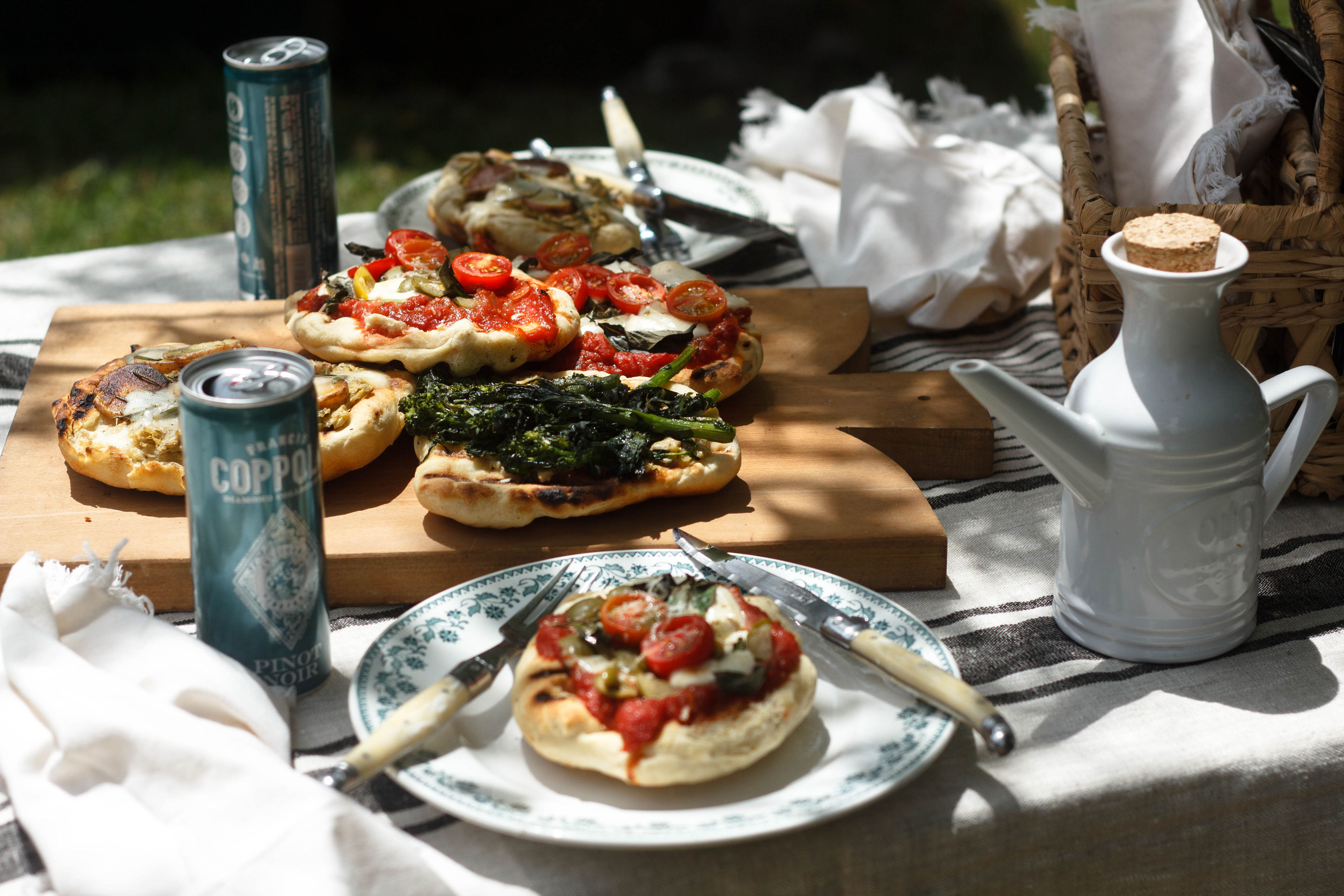 Here are two basic sauces to start as a foundation:
Basic Tomato Sauce:
In a large 10" sauté pan, add a glue of olive oil to the pan as well as the onions and garlic over medium - low heat. Once the onions are translucent and soft, add in the tomatoes, tomato paste, oregano, and basil. Bring the sauce down to a simmer and continue to cook for 8-10 minutes until it has slightly thickened. Season with salt and pepper to taste.
Arugula Basil Pesto:
In a food processor, add the garlic, grated parmesan, pine nuts, fresh basil, and arugula. Pulse several times until it resembles a rough paste. While pulsing, pour in the olive oil in a steady stream until it is a smooth consistency. You can stretch it or thin it a little with a tablespoon of water or additional olive oil. Season with salt and pepper to taste.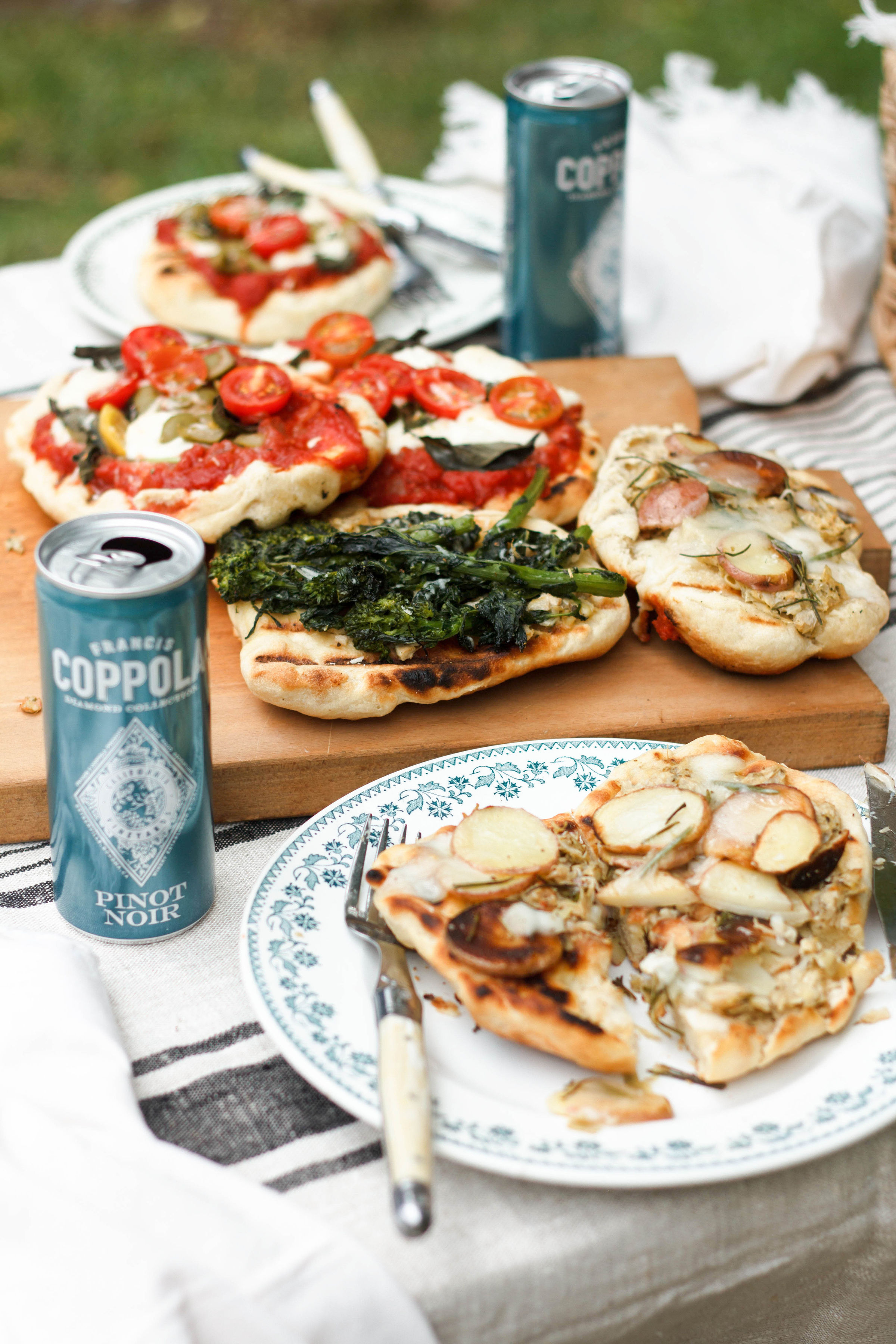 Recommended Content
Tags