Francesco Pennino's Insalata di Frutti di Mare Italian Seafood Salad
"By recalling the recipes, I was able to remember both the lives of my parents as well as my own life." - Italia Coppola
This is Italia Coppola's father's dish, made in Naples using seafood from the Mediterranean. Serve your favorite hearth bread alongside for sopping up the deliciously tangy, briny juices.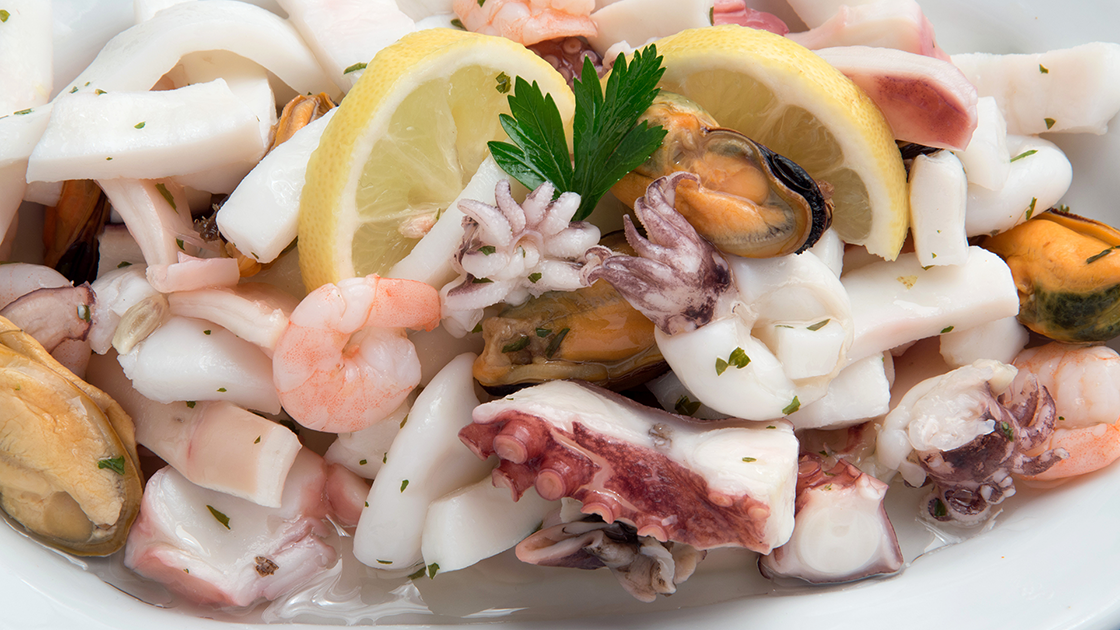 1 dozen small clams, well-scrubbed and rinsed
1 dozen PEI mussels, well-scrubbed and rinsed
1 cup extra virgin olive oil
2 pounds calamari, tentacles and bodies separated, cleaned
2 pounds scallops of choice
2 pounds wild shrimp, in their shells
Juice of 3 lemons, plus more to taste
3 to 4 garlic cloves, crushed and minced
Crushed red pepper, optional
Kosher salt
Black pepper in a mill
2 tablespoons chopped fresh Italian parsley
Put the clams and mussels into a large sauté pan, add ⅓ cup water and ½ cup olive oil and set over medium heat. Cover the pan and cook until the shellfish open, about 4 minutes. Uncover and continue to cook for another 4 to 5 minutes.
Use a slotted spoon to transfer the shellfish to a bowl and set it aside to cool.
Meanwhile, cut the calamari bodies into thin rounds.
Put the calamari, scallops and shrimp into the cooking liquid, set the heat on medium and cook, turning the shellfish a time or two, until it all loses its raw look, about 4 minutes or a bit longer.
Working quickly, remove clams and mussels from their shells, discard the shells and put the shellfish meat into the bowl. Add the calamari, scallops and shrimp and let cool until easy to handle.
Discard the cooking liquid or strain it into a clean container and use it in another dish.
Shell and devein the shrimp and return the shrimp meat to the bowl. Add the lemon juice, garlic and 2 or 3 pinches of crushed red pepper, if using. Season with salt and several turns of black pepper.
Cover and chill for at least an hour and as long as 3 hours.
Remove from the refrigerator, add the remaining olive oil, taste and correct with salt and pepper.
Enjoy chilled.
To drink: Pair with Sofia Blanc de Blancs
Serves 8 to 10
Recommended Content
Tags
Italia Coppola, who dedicated her book, Mammarella: Mama Coppola's Pasta Cookbook, to her mother Anna Pennino, to her husband Carmine and to her three children, August, Francis and Talia, who have inherited both the Neapolitan spirit and its cooking.