Eleanor Coppola's Grain Cake
One day, Italia Coppola writes in her book, she baked this cake and gave it to Talia, asking her to deliver it to Eleanor, as it was Eleanor's favorite. The cake never made it to its destination, as Talia found it so delicious that she devoured it on her drive to San Francisco.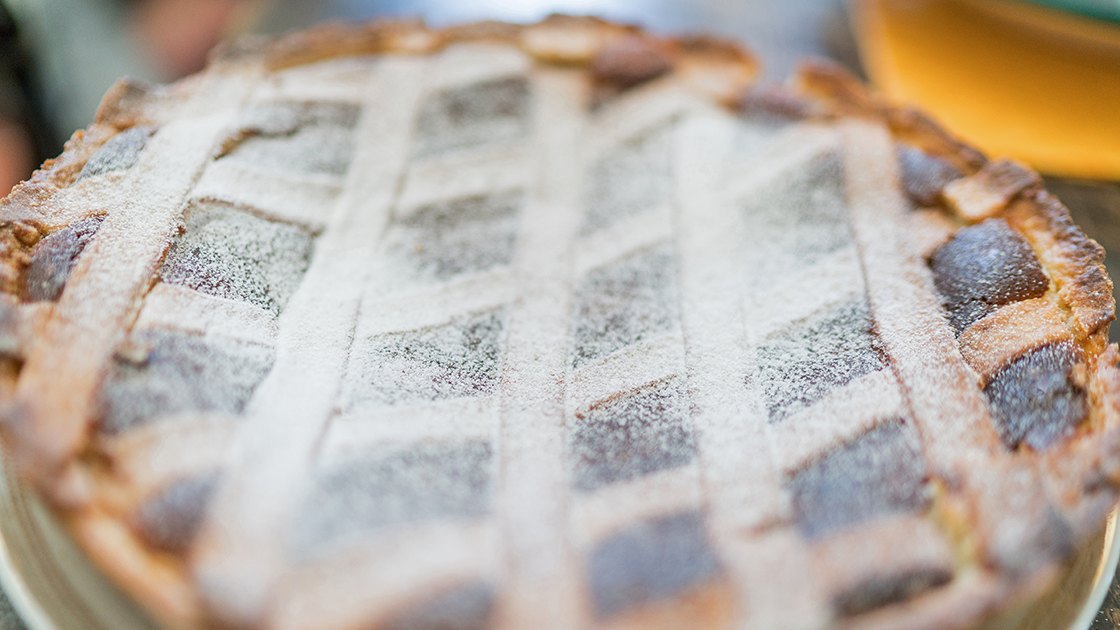 ELEANOR COPPOLA'S GRAIN CAKE
Ingredients for the crust:
1 ¾ cup all-purpose flour, plus more as needed
4 tablespoons granulated sugar
¾ cup (6 ounces, 1 ½ sticks) butter, cut into several pieces
1 teaspoon cold water, plus more as needed
Ingredients for the filling:
½ cup grain, such as bulgur, wheat berries or farro, soaked overnight in water
Kosher salt
1 pound fresh ricotta, such as Bellwether Farms or other farmstead producer
½ cup powdered sugar
2 pastured eggs
½ cup mixed candied fruit, chopped
2 to 3 tablespoons rosewater or 1 teaspoon vanilla
Instructions:
For the crust, put the flour and sugar into a medium bowl together. Add the butter and use your fingers or a pastry cutter to blend into the flour mixture. Sprinkle with the cold water, using a bit more if needed to form the ingredients into a ball. Cut the ball in half and set aside to rest for a few minutes.
Roll out one of the balls of dough on a floured work surface and press it into a cake pan, extending up and over the side. Cover with a tea towel and set aside.
Preheat the oven to 400 degrees.
For the filling, drain the grain, cover it with fresh water, add a generous pinch or two of salt and bring to a boil over medium heat. Reduce the heat to low and simmer gently until the grain is fully tender; time will vary based on the type of grain used. When the grain is tender, tip it into a strainer and let any excess liquid drain away. Let cool to room temperature.
Meanwhile, put the ricotta, powdered sugar and eggs into a large bowl and mix thoroughly. Add the cooled grain, fruit and rosewater or vanilla and mix well.
Tip the mixture into the cake pan and use a rubber spatula to spread it evenly. Set aside.
On a floured work surface, roll out the reserved ball of dough until it is about the same diameter as the cake pan. Use a sharp knife to cut it into crosswise strips.
Set the strips on top of the cake, creating a lattice work pattern and pinch them into place.
Set the cake on the middle rack of the pre-heated oven and bake for about 25 minutes, until a tooth pick or bamboo skewer comes out clean when inserted into the center of the cake.
Remove from the oven and let cool for 20 to 30 minutes. Enjoy warm or at room temperature.
To Drink: Pair with Sofia Riesling.
Serves 10 to 12
Recommended Content
Tags
Italia Coppola, who dedicated her book, Mammarella: Mama Coppola's Pasta Cookbook, to her mother Anna Pennino, to her husband Carmine and to her three children, August, Francis and Talia, who have inherited both the Neapolitan spirit and its cooking.