Dr. Pomponio's Quick Pasta Sauce with Spaghetti
Italia Coppola's cousin, Dr. Pomponio, a doctor who lived in Napoli, always bragged about his tomato sauce. It takes just 15 or 20 minutes to make, he boasted, but no one took him seriously. Not until Italia tried it, that is. She liked it so much she included it in her book. You can enjoy it with any pasta and serve it over polenta.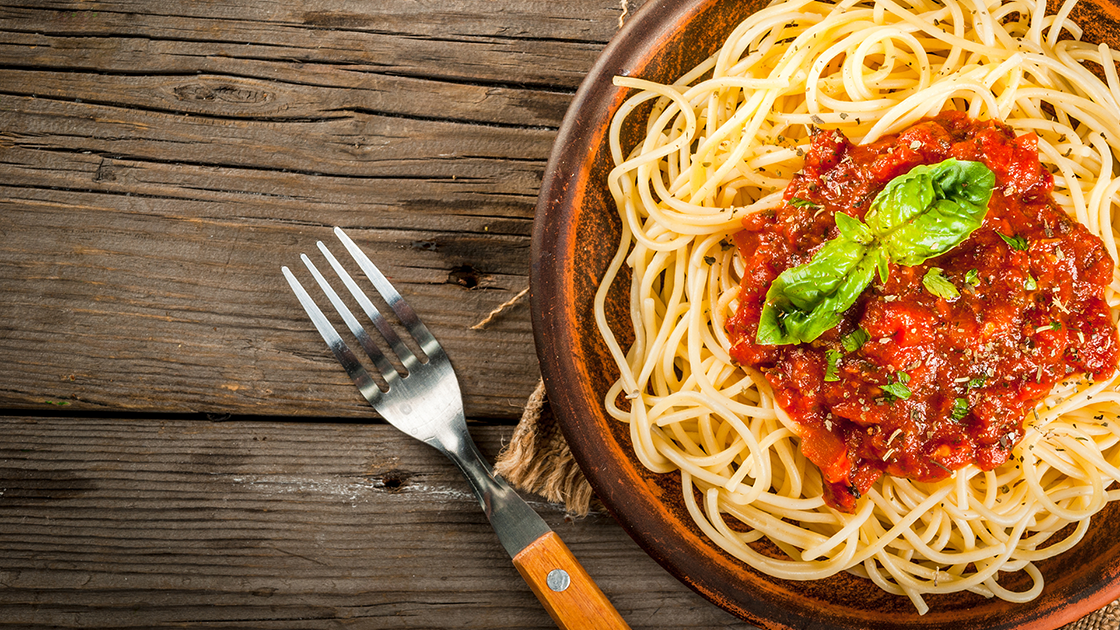 DR. POMPONIO'S QUICK PASTA SAUCE WITH SPAGHETTI
Ingredients
Kosher salt
1 pound dry spaghetti or similar strand pasta, such as spaghettini or bucatini
½ cup olive oil
1 garlic clove
1 very small yellow onion or ¼ of a larger onion, cut into small dice
1 garlic clove, crushed and minced
Black pepper in a mill
1 cup dry red wine
1 28-ounce can crushed tomatoes, preferably organic
1 chunk Parmigiano-Reggiano or similar cheese, in one piece
3 to 4 basil leaves, torn into small pieces
Instructions
Fill a large pot two-thirds full with water, add a generous two tablespoons of salt and bring to a boil over high heat. When the water reaches a rolling boil, add the pasta and stir until the water returns to a boil. Cook according to package directions until al dente. Drain but do not rinse and do not shake; you want some of the cooking water to cling to the pasta. Tip the pasta into a warmed serving bowl.
While waiting for the water to boil, set a heavy skillet over medium heat, add the whole garlic clove and cook until it takes on a golden hue. Use tongs to remove and discard the garlic.
Add the onion and sauté, stirring now and then, until it is soft and fragrant, about 10 minutes; do not let it burn. Add the minced garlic and cook 1 minute more. Season with salt and pepper.
Increase the heat to high, pour in the wine and cook until it is nearly completely evaporated. Add the tomatoes, lower the heat and cook, stirring continuously with a wooden spoon, until the tomatoes thicken, about 10 minutes. If the sauce gets too thick, thin it with a splash of wine or water. Taste and correct with salt and pepper.
Keep the sauce hot until the pasta is ready.
Pour the sauce over the pasta, use two forks to lift the pasta several times, until it is evenly coated with sauce. Grate cheese over the pasta, scatter basil on top and enjoy right away.
To drink pair with: Francis Coppola Winery Director's Cut Cabernet Sauvignon or Director's Cut Zinfandel
Serves 4 to 6
Recommended Content
Tags
Italia Coppola, who dedicated her book, Mammarella: Mama Coppola's Pasta Cookbook, to her mother Anna Pennino, to her husband Carmine and to her three children, August, Francis and Talia, who have inherited both the Neapolitan spirit and its cooking.