Chicken Piccata Alla Carmine
Good living is all about sitting down with friends and loved ones to enjoy your favorite wine with a delicious meal. The Francis Coppola Diamond Collection offers multiple varietals crafted to express character, complexity, and multi-layered flavors that enhance your cuisine. Presented below is one of our Diamond Collection wines paired with a sumptuous recipe from the "Mammarella" Coppola Family Cookbook.
CHICKEN PICCATA ALLA CARMINE
Using fruit that hails from Monterey County, Diamond Collection Chardonnay is crafted in an elegant, well-balanced style that results from a split fermentation technique where half of the wine is fermented in French oak and put through malolactic fermentation and the other half is finished in stainless steel to preserve a good measure of natural acidity to pair better with food. The wine's medium body, aromatic spices, stone fruit, and citrus flavors pair nicely with our Chicken Piccata Alla Carmine, which features a complimentary lemon wine sauce with fresh herbs.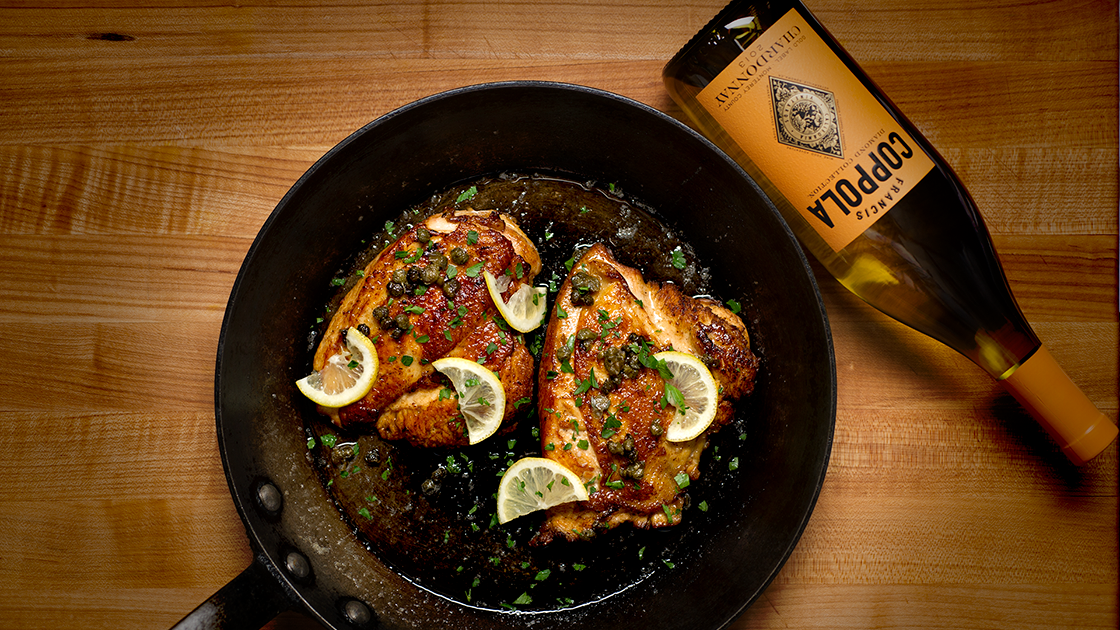 4 chicken breasts
2 TB olive oil
Juice of 2 lemons
2 TB capers, drained
1 lemon, sliced
1 tsp parsley
¼ cup white wine
salt & pepper
2 TB butter
Cooking Instructions
Pound breasts between sheets of wax paper until thin. Marinate breasts in lemon juice, salt, and pepper for 15 minutes. Add butter and oil to frying pan.
Pat breasts dry and cook over medium high heat 2 minutes on each side. Add white wine and capers, cook several minutes more until chicken cooked. Decorate breasts with lemon slices and chopped parsley and serve with rice or spaghetti.
Serves 4
Recommended Content
Tags
Italia Coppola, who dedicated her book, Mammarella: Mama Coppola's Pasta Cookbook, to her mother Anna Pennino, to her husband Carmine and to her three children, August, Francis and Talia, who have inherited both the Neapolitan spirit and its cooking.