Chicken Cacciatore
Good living is all about sitting down with friends and loved ones to enjoy your favorite wine with a delicious meal. The Francis Coppola Diamond Collection offers multiple varietals crafted to express character, complexity, and multi-layered flavors that enhance your cuisine. Presented below is one of our Diamond Collection wines paired with a sumptuous recipe from the "Mammarella" Coppola Family Cookbook.
HUNTER STYLE CHICKEN CACCIATORE
Francis's father Carmine was famous for his Chicken Cacciatore. Not only does his recipe boast the traditional flavors of mushrooms and bell peppers, it's simmered in red wine, which is why it pairs very well with our Cabernet, a hearty red with intriguing spice notes, luscious dark fruits, velvety tannins, and smoky oak nuances. Sourced from several central and northern appellations across the state, Diamond Collection Cabernet Sauvignon offers complexity from its soil diversity, making it a bold, sophisticated wine.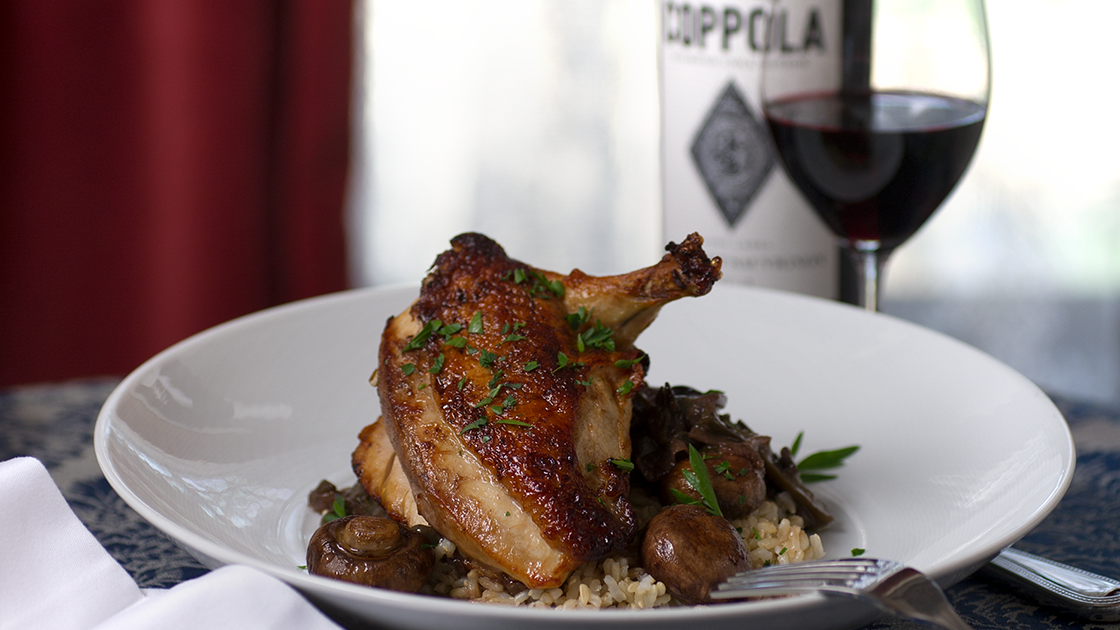 2 small chickens cut into quarters
½ cup olive oil
1 large onion, sliced
½ cup red wine
1 cup mushrooms
1 stalk celery, chopped
1/3 cup parsley
1 green bell pepper, sliced
salt & pepper
Cooking Instructions
In a skillet over high heat, cook chicken in olive oil until browned on all sides. Add onions. When onions browned, add wine and simmer five minutes. Add bell pepper, mushrooms, celery, parsley, salt, and pepper. Cover and simmer about 25 minutes, stirring occasionally. Add more wine or water for extra sauce. Serve chicken atop rice and sprinkle with fresh parsley.
Serves 4 to 6
Recommended Content
Tags
Italia Coppola, who dedicated her book, Mammarella: Mama Coppola's Pasta Cookbook, to her mother Anna Pennino, to her husband Carmine and to her three children, August, Francis and Talia, who have inherited both the Neapolitan spirit and its cooking.