Calamari Alla Marinara
It is very easy to clean calamari, even though it can seem intimidating if you've never done it before. You simply separate the body from the tentacles by pulling gently or cutting crosswise with a knife just below the eyes. Set the tentacles aside, reach inside the body, pull out the little ink sack, beak and entrails and pull off the purple membrane from the outside of the body. Some cooks prefer to cut the body into thin—about 1/8-inch—rounds; some prefer to leave them whole. It is up to you.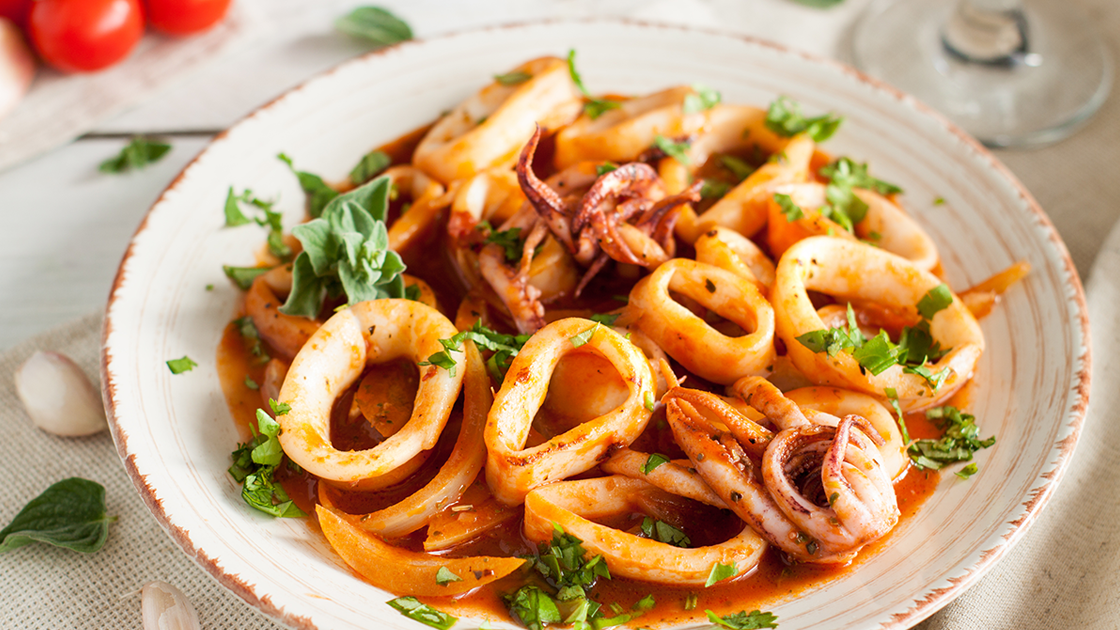 1 ½ pounds small calamari, washed, cleaned and tentacles separated
½ cup extra virgin olive oil
Kosher salt
Black pepper in a mill
3 garlic cloves, crushed and minced
6 small tomatoes, cored, peeled and chopped
2 teaspoons chopped fresh Italian parsley
1/8 teaspoon dried oregano
1 teaspoon capers, rinsed if salted
Set the tops of the calamari on a clean work surface and cut each one into 4 or 5 crosswise pieces.
Pour the olive oil into a heavy sauté pan set over medium heat. Add the calamari and sauté, turning once or twice, for 2 to 3 minutes. Season with salt and pepper.
If much liquid has collected in the pan, pour about half of it into a small heatproof bowl and set it aside.
Add the garlic, tomatoes, parsley, oregano and capers and cook over low heat until the liquid begins to thicken. Return the reserved liquid to the pan and cook very gently for 20 minutes.
Taste and correct with salt and pepper.
Enjoy hot.
Variation:
To serve with pasta, cook 12 ounces of dried spaghetti or linguini in salted water until al dente. Drain and tip into a serving bowl. Top with the calamari and sauce, toss gently and enjoy right away.
To drink: Pair with Director's Merlot.
Serves 3 to 4
Recommended Content
Tags
Italia Coppola, who dedicated her book, Mammarella: Mama Coppola's Pasta Cookbook, to her mother Anna Pennino, to her husband Carmine and to her three children, August, Francis and Talia, who have inherited both the Neapolitan spirit and its cooking.