Beef Steak Pizzaiola
A side dish bright with acid from vinegar or lemon juice is an ideal accompaniment to this luscious steak; Italia's Fried Zucchini with Fresh Mint is perfect and perfectly delicious.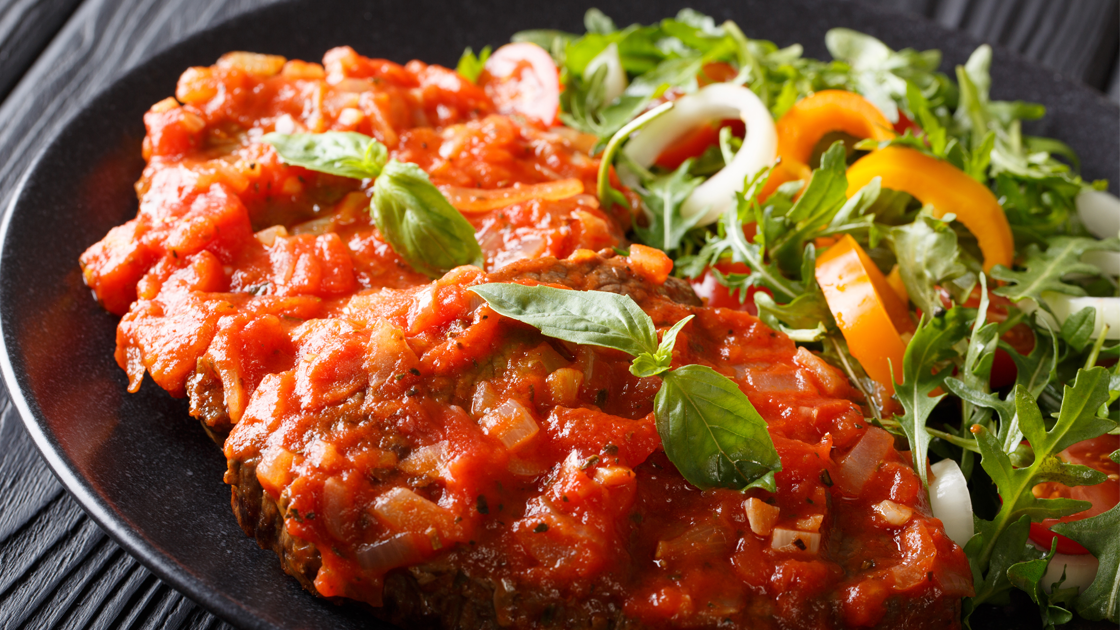 3 tablespoons olive oil
2 garlic cloves, crushed and minced
1 14-ounce can crushed tomatoes, preferably organic
2 teaspoons chopped fresh Italian parsley
2 teaspoons dried oregano
Kosher salt
Black pepper in a mill
2 small steaks of choice, such as Coulotte
1 tablespoon butter
First, make the sauce. To do so, put 3 tablespoons of the olive oil into a medium sauté pan. Add the garlic, cook for 1 minute and stir in the tomatoes, half the parsley and half the oregano. Cook gently for 15 to 20 minutes. Season to taste with salt and pepper, cover and remove from the heat.
Season the steaks all over with salt and pepper.
Preheat the oven to 325 degrees.
Put the remaining olive oil and the butter into a small heavy pan (cast iron is ideal) and set over high heat. When the oil and butter are very hot but not smoking, add the steaks, cook for 2 minutes, turn and cook for 2 minutes more.
Pour the sauce over the meat and set the pan in the oven. Cook for 5 minutes for rare, 8 minutes for medium rare and 12 minutes for medium.
Remove from the oven, let rest 5 minutes and enjoy hot.
To drink: Pair with Director's Cut Zinfandel.
Serves 2
Recommended Content
Tags
Italia Coppola, who dedicated her book, Mammarella: Mama Coppola's Pasta Cookbook, to her mother Anna Pennino, to her husband Carmine and to her three children, August, Francis and Talia, who have inherited both the Neapolitan spirit and its cooking.