August's Linguine Salza Alfredo
When you order pasta Alfredo in a restaurant, you are likely to get fettuccini swimming in a cream sauce thickened with flour and not the voluptuous dish Italia's oldest son liked to prepare for his family.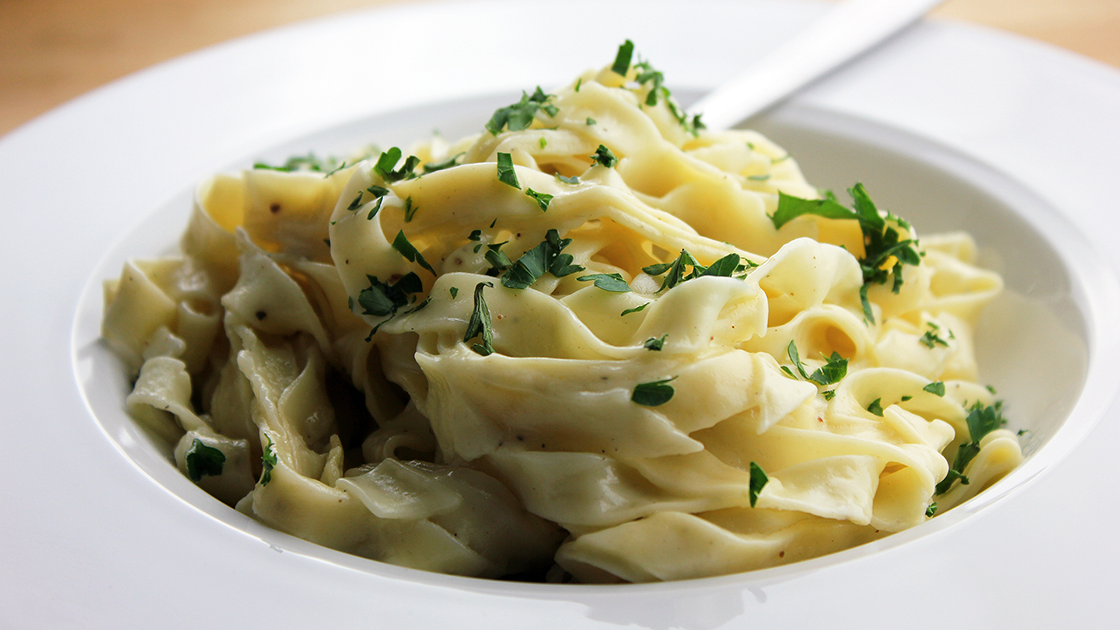 Kosher salt
1 pound linguini or similar strand pasta
4 ounces (1 stick) butter, cut into small pieces
4 ounces (1 cup) grated Parmigiano-Reggiano or similar cheese
⅓ cup cream or half-and-half
2 tablespoons chopped fresh Italian parsley
Black pepper in a mill
Fill a large pot two-thirds full with water, add 2 tablespoons of salt and bring to a boil over high heat. When the water reaches a rolling boil, add the pasta and stir until the water returns to a boil. Cook according to package directions until al dente. Drain, do not rinse and leave some of the cooking water clinging to the strands.
Shortly before the pasta is done, fill a large serving bowl with hot tap water, let sit for about 5 minutes, pour out the water and dry the bowl.
Tip the drained pasta into the bowl. Add the butter and use two dinner forks to gently turn the pasta and butter. Add the cheese and cream and continue to turn and lift the pasta until the butter and cheese are fully melted.
Scatter the parsley over the pasta, add several turns of black pepper and enjoy right away.
To drink: Pair with Diamond Collection Pinot Grigio.
Serves 4 to 6
Recommended Content
Tags