August Coppola's Chicken Cacciatore
"Cacciatore" indicates that a dish is prepared in the style of a hunter and refers to a time when hunting for one's food was more common than it is today. In Italy, husbands would often bring home rabbit and their wives would prepare it in this way, sometimes substituting dry sherry for white wine. A century ago, most farms in America raised rabbit for meat but it all but disappeared in the second half of the twentieth century. It is now making a comeback, in part because of its small carbon footprint. You easily use it in this recipe, instead of chicken.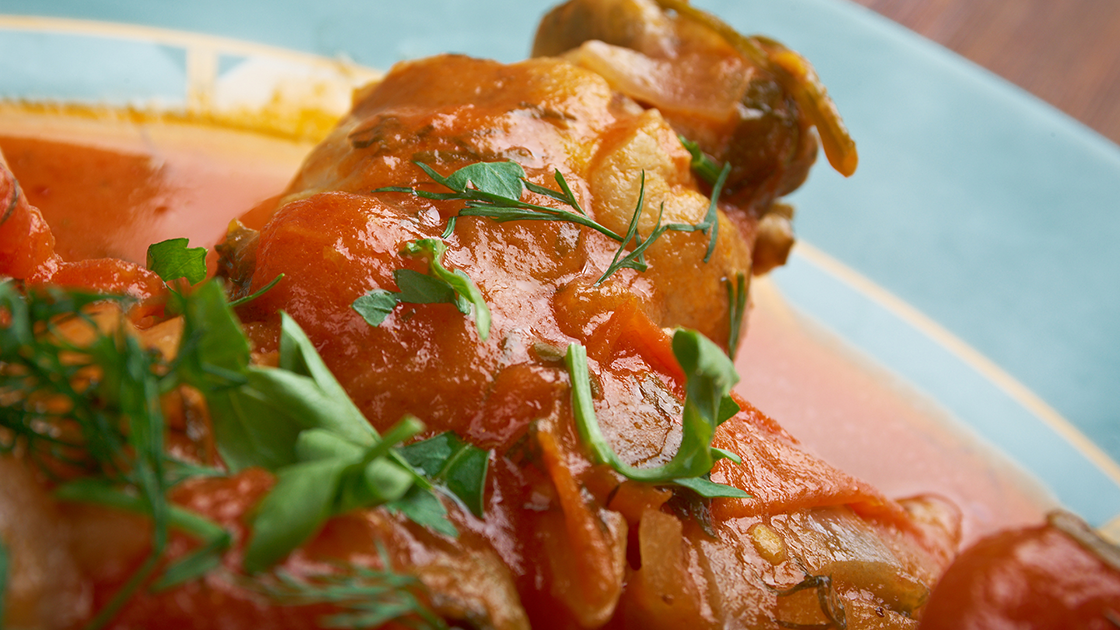 6 leg-thigh pieces of chicken or 6 half (i.e. single, not double) breasts, bone in and skin on
Kosher salt
Black pepper in a mill
½ cup olive oil
1 large yellow or white onion, cut into small dice
3 to 4 ounces mushrooms of choice, sliced or broken into small pieces
1 large green bell pepper
1 celery stalk, cut into small dice
½ cup chopped fresh Italian parsley
¾ cup dry white wine
Steamed rice, from 1 cup dry white rice
1 teaspoon paprika (sweet or hot), preferably Spanish
Set the chicken on a clean work surface and season it all over with salt and pepper.
Pour the olive oil into a large deep skillet, set over medium heat and fry the chicken on both sides until it is evenly browned. Transfer the chicken to a plate.
Add the onion to the pan and sauté until it is soft and fragrant, about 7 to 8 minutes. Add the mushrooms, green pepper, celery and about half the parsley, cook until the vegetables soften, season with salt and return the chicken to the pan.
Add the wine, lower the heat, cover the pan and simmer very gently for about 25 minutes, until the chicken is cooked through.
If you have not already done so, prepare the rice while the chicken cooks.
To finish, mound the rice in the center of a large platter and surround it with the chicken. Spoon the gravy over everything, sprinkle with the remaining parsley and the paprika and enjoy hot.
To drink: Pair with Director's Cut Merlot.
Serves 6
Recommended Content
Tags
Italia Coppola, who dedicated her book, Mammarella: Mama Coppola's Pasta Cookbook, to her mother Anna Pennino, to her husband Carmine and to her three children, August, Francis and Talia, who have inherited both the Neapolitan spirit and its cooking.