Apricot Glazed Grilled Chicken Salad
Apricot Glazed Grilled Chicken Salad
Wine Pairing: Diamond Collection Appellation Series Sonoma Coast Chardonnay
Ingredients:
extra virgin olive oil
kosher salt
3 tablespoons apricot preserves
1 tablespoon honey
dash of cayenne pepper
3 garlic cloves, minced
2 tablespoons red wine vinegar
4 1-2 lbs skinless chicken breasts
1 15.5 oz can garbanzo beans, rinsed
1 teaspoon coriander
1/2 teaspoon garlic powder
1/4 teaspoon red pepper flakes
dash of smoked paprika
2 romaine hearts, diced into 1/2" pieces
3 heaping handfuls arugula
2-3 apricots or peaches, thinly sliced
1 cup slivered almonds
For the vinaigrette:
juice of 2 lemons
1/4 teaspoon kosher salt
1 teaspoon honey
1/2 cup minced flat leaf parsley
1/2 cup extra virgin olive oil
cracked black pepper to taste
Directions:
Preheat the grill to high heat. This is better prepared on an outdoor grill.
Place the chicken breasts into a bowl and drizzle with olive oil and season them with 1/2 teaspoon kosher salt on both sides.
Prepare the basting sauce by combing the apricot preserves, honey, cayenne pepper, garlic cloves, and red wine vinegar.
Once the grill is nice and hot, add the chicken breast to the grill and baste a few tablespoons of the sauce on top of each piece occasionally. Cover the grill and cook for at least 10 minutes on one side.
While the chicken is grilling, prepare the garbanzo beans by adding a few tablespoons of olive oil to a cast-iron skillet over medium heat. Once the oil is shimmering, add the garbanzo beans and sauté until they are toasted and browned. Stir the garbanzo beans frequently while cooking and season with coriander, garlic powder, red pepper flakes, smoked paprika and 1/4 teaspoon of kosher salt until they are evenly coated. Turn off the heat and set them aside.
Using tongs, flip the chicken and spoon a few tablespoons of the sauce over each piece several times as they cook. Continue to grill until they are throughly cooked with a final internal temperature of 165 F.
Remove the chicken breasts onto a wood cutting board and allow them to rest while you prepare the salad.
Prepare the vinaigrette by whisking together the lemon juice, kosher salt, honey, and flat leaf parsley. While whisking, pour in the olive oil and continue to whisk until it is fully emulsified. Season with a few cracks of black pepper to taste.
Gather a large salad bowl and combine the romaine lettuce, arugula, apricot slices, and garbanzo beans. Drizzle over the vinaigrette and lightly toss together.
Using a serrated knife, slice each chicken breast against the grain into 1" thick pieces.
Divide the salad onto 4 plates and layer the chicken slices onto the top of the greens.
Sprinkle the salads with slivered almonds and additional black pepper to taste.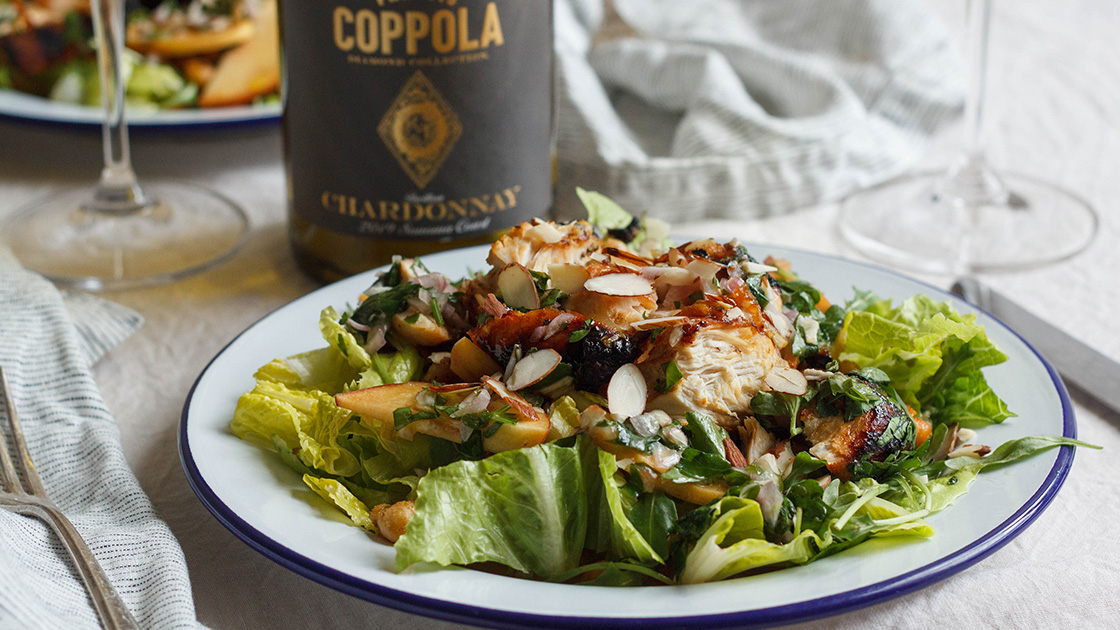 Recommended Content
Tags