Holiday Sangria
In celebration of the holiday season, we asked twelve different at home bartenders to craft their very own Coppola cocktails that each feature one of our Family Coppola wines as well as one of our Great Women Spirits. Check out this recipe from Amanda Arulpragasam (@pinchpurrfect).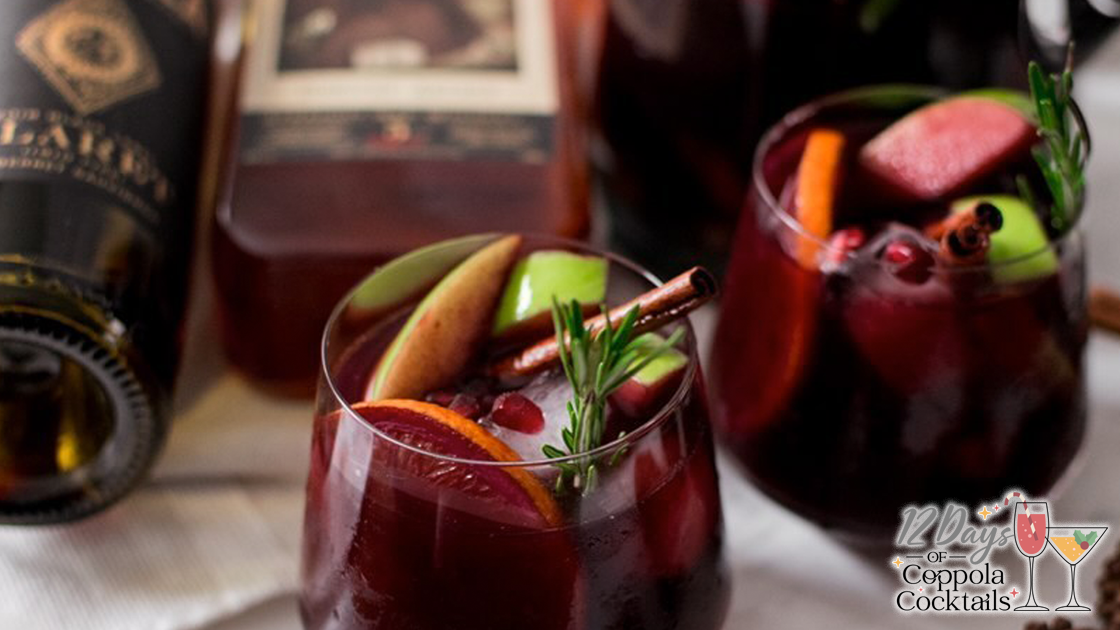 Ingredients:
½ cup homemade cinnamon simple syrup*
1 bottle Diamond Collection Claret
¼ cup triple sec
2 cups fresh apple cider
¼ cup pear juice
¼ cup pomegranate juice
¼ cup pomegranate arils
2 granny smith apples, sliced
1 pear, sliced
1 orange, sliced
1 lemon, juiced
Recipe:
Combine all ingredients in a large pitcher and let steep for at least 4 hours, preferably overnight.
When ready to serve, pour into ice filled glasses. Garnish with a cinnamon stick and sprig of rosemary. Enjoy!
*Cinnamon Simple Syrup Recipe:
Ingredients:
½ cup sugar
½ cup water
3-4 cinnamon sticks
Recipe:
Bring sugar and water to a boil. Boil until sugar is dissolved.
Remove from heat and add 3-4 cinnamon sticks. Let steep for at least 4 hours. The longer you steep, the more cinnamon flavor you will impart. Make sure the syrup has completely cooled before you add it to the pitcher with the other ingredients.
Recommended Content
Tags