Next Winemaker on Deck: Natalie Dale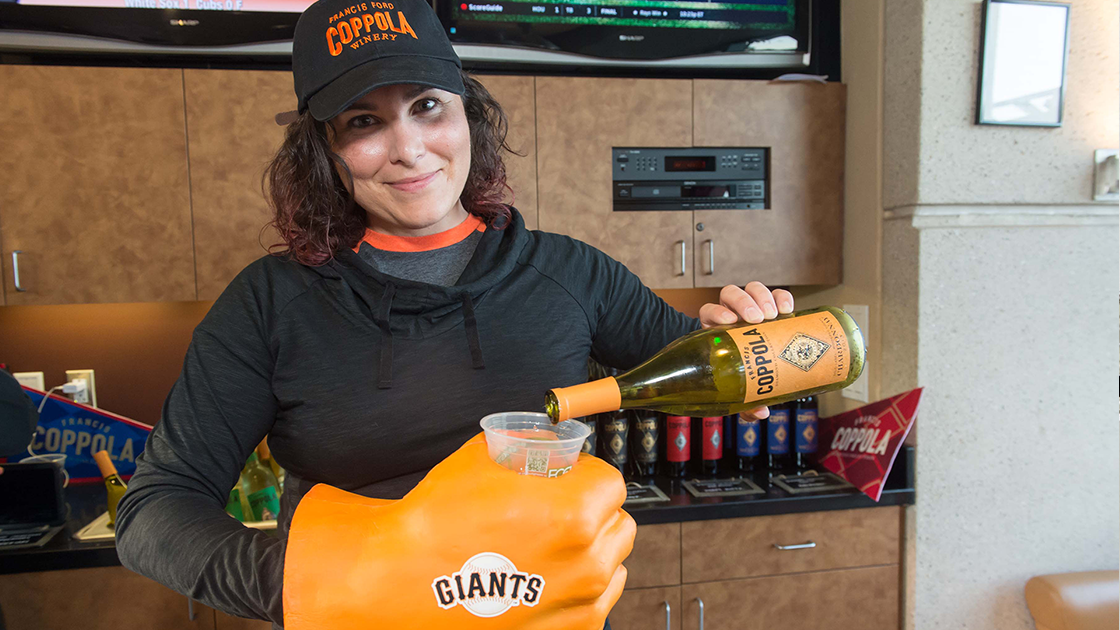 1. What is your favorite ballpark food (non-specific to Giants) +what Coppola wine would you pair it with?
Caramel popcorn! I'd pair this with Diamond Cabernet. The caramel nutty toasted notes would complement the oak on this fruitier style cabernet.
2. Most fun tailgate activity is:
Bean bag toss. I can still hold a drink with one hand!
3. If you could sneak any bottle of Coppola wine into the ball park which one would it be?
Sofia Brut Rosé. Always great for celebrating!
4. Would you rather go through harvest or sit through 30 innings of a baseball game?
30 innings of baseball. This would end a lot faster than harvest, and I would be entertained the whole time!
5. In winemaking what has been your biggest grand slam moment?
My biggest grand slam moments have been when I've represented the winery at tasting events, and I know that every guest had fun, or ended up purchasing wine. I know I did my job well.
6. What is your favorite ballpark memory?
When my mom snuck us into club level just for the brisket sandwich. It's was easy to get to club level but getting out was harder. When the usher asked us for our tickets, my mom pointed to me. Lies, confusion and the distraction of cheering crowds at that moment helped us and we were able to find pretty good seats just behind home plate. Big sigh of relief, and full bellies! Lessons learned from mom.
7. Who is your favorite baseball player and why?
I like a lot of the guys from the 2012 Giants roster. Favorite is probably Buster Posey.
8. If you had to pick one dip to eat forever, what would it be?
Hummus. It can be in so many flavors and I don't feel bad about eating a lot if the vehicle of getting the hummus into me is via vegetables.
9. Baseball hat, beret, fedora hat, beanie or cowboy hat?
You rarely need a sun hat at a game in the bay area. The fog rolls in, and it gets real cold.
10. If you were a baseball player, what would your walk out song be?
KC and the Sunshine band: Give it Up. I don't think the pitcher will see that cheesy song coming, and it will throw them off.
11. If you could have any baseball player (dead or alive) sign a jersey or ball, who would it be?
Willie Mays.
12. What position would you play if you were recruited to play for a weekend?
Right Field. Put me in coach!
Recommended Content
Tags