A New Kind of Loyalty Program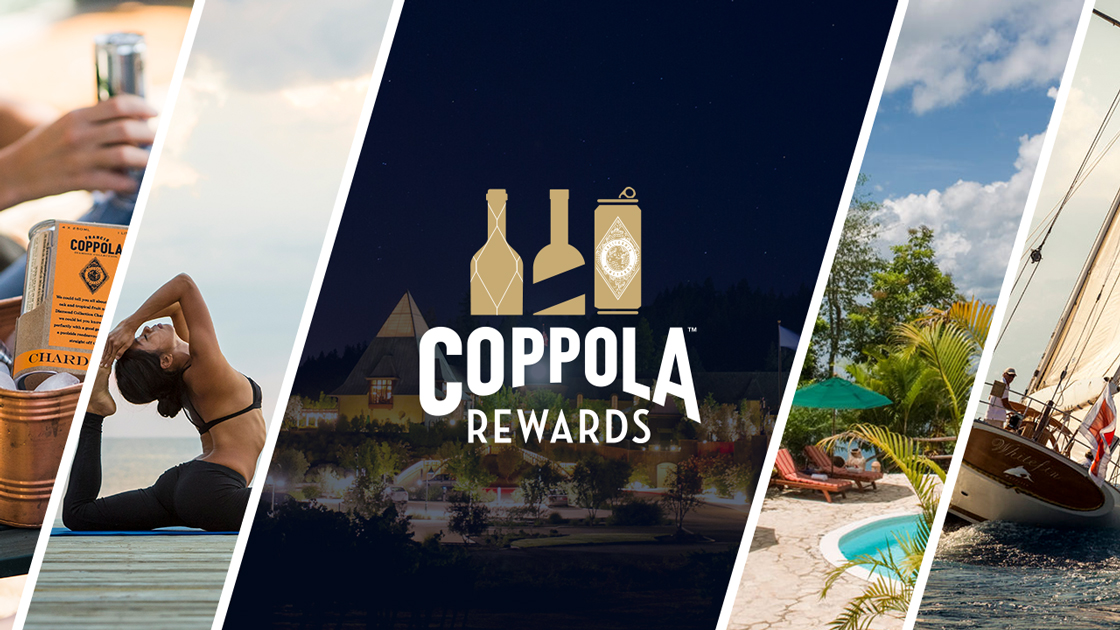 The Family Coppola is a global experience-based brand that represents specialties in wine, spirits, food, resorts, film and adventure. The new Coppola Rewards program invites people to earn points to redeem for various rewards and access a custom curated list of exclusive experiences and items authentic to the company's roots.
Mark Johnson, The Association of Customer Loyalty CEO, talked with Jennifer Leitman, The Family Coppola EVP of Marketing, to learn more about the exciting new program encouraging more people to explore all The Family Coppola has to offer.
Can you tell us a bit about the brand and your role with the company?
The winery is owned by Francis and his family. They are incredibly involved in everything, particularly the innovation, creative, and marketing. It's very important to them that everything we create from experiences at the different properties—whether that's the winery or resort, or the experiences around the wine—are authentic to the family and things that come from their lifestyle and from their history. So, he's remains connected with us, which is exciting.
The marketing team helps connect the dots within the company. We tell the story of The Family Coppola. We have resorts and rewards. We've got a magazine. There's a food business. There's a couple of restaurants. There are two wineries. And there's always something cooking with Francis. There's always something interesting that's about to happen, which is fun. So, there are more ideas that continue to evolve and diversify The Family Coppola as a global lifestyle brand, and that fuels stories that we're telling.
About your loyalty program—how did you launch it and what is the basis for it? How did you go about designing the program when you first came out with it?
It was something that was really interesting to us for a long time. The thing about the wine industry is that it's super competitive. There's a real over-choice on brands. A lot of consumers, they love that. Discovering new wines is part of the allure of drinking it, and shopping is discovering something new.
We're looking for a reason to get people to choose us, to remind them of our consistent quality and also the lifestyle that we represent, because a lot of people don't know that The Family Coppola is more than wine brands. There's Coppola Hideaway resorts. There's Zoetrope: All-Story magazine. There's Mammarella food. There's several wineries. There's still quite a bit of entertainment in the company as well.
So, it's an interesting lifestyle that we represent, that for a lot of folks—particularly the younger generation—they may just know the wine part of it. They don't know the rest. So really, the goal is, "How do we communicate all the things The Family Coppola has? All our different businesses and this overall experience that we're more of a product." We look at it from that standpoint. We need a way to gain loyalty in an industry in which it's really tough to gain, because there's so many different wines out there, and we want to be able to communicate everything that is The Family Coppola and reward people for participating in any part of our business. That's how the Coppola Rewards loyalty program was born.
How should we as an industry look at and talk about customer loyalty so that we can help you?
There's the expected, normal points-based loyalty, which I think people get. You earn so many points, you get certain things, which is very functional. I think there's a deeper emotional connection for brands through loyalty offerings. What's that more evolved and connected platform? How can you help us understand that next level of brand affinity?
Here's this next phase—we certainly have customers who respect us and are devoted to us. They go from customer to super fan. We have those, but we want to have more, with stronger connections. Gamification is compelling and I think addicting for some. It's a unique way to think about loyalty programs, too.
I think that's the one thing I would love to read more about. The softer part of it; it's not about the algorithms. It's not about the points. It's about something deeper. It's so hard to articulate, and maybe that's why it's so hard to make happen, that next-level loyalty and devotion. It's hard to come by. That's what I think we could all learn more about and I would love to have more education on that.
What does corporate responsibility mean to The Family Coppola?
It's incredibly important. I mean, it's the right thing to do, to be good corporate citizens. It's also increasingly what customers expect, and it can help differentiate our company from competitors. When you get back to how competitive the wine space is, this is something that could really motivate purchase.
Quietly, we've done a lot through the years. We're at a point where it's time to put some structure around our efforts and be a bit louder. We had a summit over the summer with Francis, and he's super passionate about a number of issues. From education and the environment to the arts and women's achievement.
Looking into 2019, we will be launching a larger CSR initiative. I hope it connects with people. I hope it delights them. I hope it enhances their experience with our brand. More than anything, I think we do want to make a positive impact on the world. And Francis does. He's always done things quietly and generously. And now, we'd like to have more of a voice in the conversation.
Conclusion
It's refreshing to see a brand grow so organically from a personal identity. Even as The Family Coppola takes on new endeavors, the company maintains a sense of self, a sense of purpose. The best loyalty programs always reach for that.
Join Coppola Rewards
Excerpt from:
The Family Coppola Executive Discusses Customer Loyalty
Mark Johnson | Loyalty360
https://loyalty360.org/
Recommended Content
Tags